'So shocking': Fans praise Casualty for shining a light on this hard-hitting issue with 'heartbreaking' episode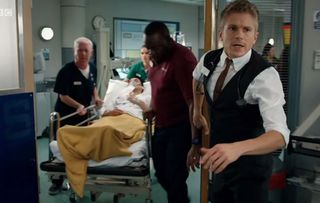 Casualty viewers have praised the BBC One show for shining a light on the current NHS crisis in a heartbreaking recent episode.
Saturday night's episode of the hospital drama focused on the hard-hitting realities of a squeezed health service, showing the ED struggling to cope with demand.
Ambulances full of patients were shown queuing outside the ED for hours until there was space to go in - leaving patients health in danger.
Two patients even faced life-threatening situations, owing to the lack of space and facilities in the overworked hosptial.
The staff were so busy, that doctor Ethan Hardy even desparately asked, "I can't believe I'm saying this. Is there anyone whose treatment doesn't requite any privacy?"
Eventually, nurses and doctors at the hospital were forced to take matters into their own desparate hands.
And viewers noted how strikingly similar the situation in the drama's hospital seemed to the current NHS crisis.
Fans over on social media were quick to share their praise for the show, thanking them for shining a light on the desparate situation the NHS faces.
One wrote, "Such a powerful and hard-hitting episode tonight. It's so shocking to get such an awful insight into the state of the NHS, but that's why it's also so necessary and it's what #Casualty does best."
Another viewer agreed, writing "What a heartbreaking episode tonight. A very realistic view of what's happening to our wonderful health service. Well done for highlighting problems within the NHS #Casualty."
While a third commented, "Well done @bbccasualty for an excellect portrayal of what staff are really facing in our hospitals right now. Breaks my heart to see this happening."
And they weren't the only ones who thought so...
Saturday's episode also saw the arrival of new character Bea Kinsella to the ED.
And she certainly made an impression too, after being caught making comments about a dying patient by their daughter.
While some viewers were divided by the new F1 doctor, others praised the addition to the drama.
One wrote, "Love her. Superb 1st episode", while another agreed, "Great first episode - love her already!"
What did you think of Saturday night's episode then?
Casualty returns next Saturday, BBC One, at 8.20pm.
Get the latest updates, reviews and unmissable series to watch and more!
Thank you for signing up to Whattowatch. You will receive a verification email shortly.
There was a problem. Please refresh the page and try again.