Catastrophe star Rob Delaney on having a fab time in a new CBeebies series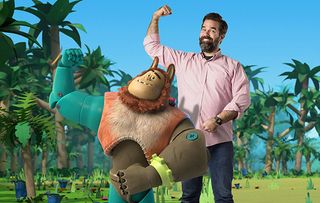 (Image credit: BBC / Fremantle / Jack Barnes)
Rob Delaney on voicing a character in new CBeebies animated comedy adventure series Bitz & Bob
Catastrophe star Rob Delaney voices the part of high octane action figure Bevel (above with Rob!) in new CBeebies series Bitz & Bob – and he had a great time in his his first major animated voice role.
The show, which starts on CBeebies on Monday 12th March, revolves around Bitz, a passionate eight-year-old inventor and creator, who along with her younger brother Bob, loves to use her imagination and her toys to make her creations come to life.
Their toy friends include Bevel. "Bevel belongs to Bob," explains US actor Rob. "He's a big, animal-type action figure, but he lost his leg below the knee somewhere along the line and Bitz came up with a solution to put a doll's leg on there, so he's got a funny appearance. Bevel likes to boast that he's the best - but he rarely is.
"He's a lot of bravado and he exists to make the kids on the show look really great at what they do - they would anyway, but juxtaposed against silly, loud, boisterous Bevel they really look pretty great."
Rob adds that he does a lot of singing in the role: "I enjoy singing. I don't do it a lot because in my grown-up career I'm a comedian and I write and act TV for grown ups, but I love to sing around my home and I went to school and studied singing. I should create more opportunities for myself to sing because it's a lot of fun."
Things frequently go wrong, but Bitz uses her remarkable "Engineer-o-vision" goggles to analyse what has gone wrong and visualise a solution. The series has been created to inspire girls to take up engineering.
Rob says: "It's very imaginative and creative and Bitz anchors it beautifully and is the heart of the show. It's particularly fun to have a girl in that role since a lot of that stuff can be associated with boys, which is silly because obviously any girl can do that stuff as well as any boy."
Bitz & Bob, featuring Rob Delaney, starts in March.
Get the latest updates, reviews and unmissable series to watch and more!
Thank you for signing up to Whattowatch. You will receive a verification email shortly.
There was a problem. Please refresh the page and try again.