Charity Wakefield is bringing a 'Lois Lane vibe' to the Doctor Who Christmas special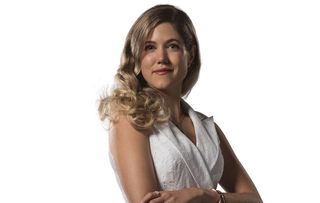 (Image credit: BBC)
Charity Wakefield plays a reporter in a retro New York-based Doctor Who Christmas special. How very Lois Lane, she explains!
Doctor Who's new star Charity Wakefield has said her character will bring a 'Lois Lane vibe' to the Christmas special.
Charity will appear in the highly anticipated episode, entitled The Return of Doctor Mysterio, as investigative reporter Lucy Fletcher.
The Christmas Day show will focus on classic superheroes, with fellow newcomer Justin Chatwin taking on the role of a mysterious figure known as The Ghost.
The actress told BBC Breakfast: "This is an interesting one because we do go into superhero territory.
"This show is set in New York City and my character happens across this very terrifying situation where she doesn't know what is going on.
"It feels otherworldly, but we also come across a character called The Ghost, who she may or may not know in her home life, so there is a sort of Lois Lane vibe about my character."
Charity said joining the show for the festive episode, which sees the return of Peter Capaldi as the Doctor, brought extra pressure because of her childhood connection to the series.
She said: "I grew up with it. Ace the companion was a massive heroine for me, my dad was a big fan of the show when I was a kid and it's amazing what they have done, they have completely reinvented it.
"When I got the job I was so excited and then quite nervous gong to Cardiff to film, but Peter Capaldi is the nicest actor you could ever hope to work for.
"He greeted the new cast as we came in and showed us around the set and showed us the Tardis, he's incredibly kind and so generous."
While Charity is sworn to secrecy about the storyline, she did urge fans to 'watch out for some scary surgeons in this one'. Doctor Who: The Return of Doctor Mysterio will screen on Christmas Day on BBC One at 5.45pm.
Get the latest updates, reviews and unmissable series to watch and more!
Thank you for signing up to Whattowatch. You will receive a verification email shortly.
There was a problem. Please refresh the page and try again.