Charlotte Ritchie: 'Barbara's more sophisticated when she returns to Call the Midwife'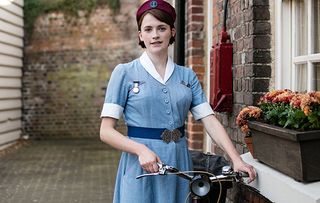 (Image credit: BBC)
Charlotte Ritchie reveals how her character has changed and why she's excited to return to Call the Midwife
This week sees nurse Barbara Hereward, played by Charlotte Ritchie, return to Call the Midwife. After several months in Birmingham with curate husband Tom (Jack Ashton), she is back in Poplar in time to attend the fun-filled Poplar Picnic for the locals. But here, Charlotte reveals how Barbara has changed in her time away.
Charlotte Ritchie tells TV Times why she's so glad to be back in Call the Midwife…
TV Times Were you pleased to return?
Charlotte Ritchie: "Oh yes! I didn't like the idea of Barbara and Tom disappearing off into the sunset forever. Also, I really missed it, because it is a lovely job, and I love working with everyone so I was excited to be back. I did a play for five months in the West End, which put me through my paces, but I felt left out when everyone else was filming, although we kept in touch on WhatsApp."
TVT Do Tom and Barbara receive a big welcome from their friends?
CR: "They're expecting a big hoorah but nobody is there when they arrive! So they troop off to the forest to find the others who are engaging in tomfoolery at a picnic. Shooting the picnic was so much fun; Jack and I take part in a three-legged race and he is strong so he just lifted me along, but Cliff Parisi [Fred] was playing dirty!"
TVT How has the time away changed Barbara?
CR: "She looks more sophisticated with her clothes and her hair is longer so she's styled up in Birmingham! I think she has grown up too. She sees herself as a wife and thinks her role is to iron Tom's shirts and cook the dinner. That's where she and I part ways, but that's fitting for the time and Tom is a nice guy, so he is not hard to look after."
TVT Is she still enjoying midwifery?
CR: "Yes, it's great that we see her get into her stride when she comes back and she remembers why she loves it so much. She has a lovely birth coming up that's a perfect return to being a midwife. I love the way she has become so confident, she is braver than I am by a country mile; I admire her a lot."
TVT Could Baby Hereward be on the cards?
CR: "Not at the moment! For now, they're getting on with being a new couple and being back at home. They both work so hard and are young so it is not discussed yet."
TVT Do you get recognised much?
CR: "Yes but always when I am hungover or not wearing makeup, which is annoying! People say, 'Oh the vicar is so dishy!' or how much they loved Tom and Barbara's wedding. I haven't watched that episode though, because it was too surreal seeing myself in a wedding dress!"
TVT What's next for you?
CR: "I have E4's Dead Pixels coming out later this year. It's a comedy about people who are obsessed with online gaming. It was good to do comedy again; I missed it a lot. At the moment I am in LA trying to get a job over here to see what it is like working in nice weather, although I never know what to wear because it's so hot!"
Call the Midwife continues on Sunday on BBC1 at 8pm
Get the latest updates, reviews and unmissable series to watch and more!
Thank you for signing up to Whattowatch. You will receive a verification email shortly.
There was a problem. Please refresh the page and try again.