Call the Midwife's Charlotte Ritchie: 'Barbara's wedding is very her!'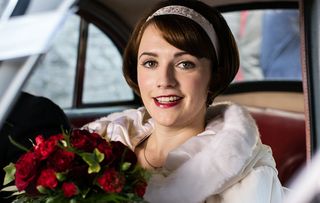 (Image credit: BBC/Neal Street Productions/Soph)
Charlotte Ritchie reveals all about Barbara and Tom's nuptials in the Call the Midwife series finale...
Wedding bells are in the air in the Call the Midwife finale as midwife Barbara (Charlotte Ritchie) and curate Tom (Jack Ashton) prepare to tie the knot. Here, Charlotte gives TV Times the inside story on the last-minute nuptials…
We're so pleased that Tom and Barbara are getting married! But things have to be organised quickly don't they? "Yes, it's sad because her dad, who is a vicar, is going away for three years but it's important to her that he conducts the ceremony so they have to get married straight away and there's no excuse to dilly-dally. They have to rush things but, as Barbara says, 'Babies don't stop being born just because somebody's getting married'. I love that she just gets on with everything but they are hard-up so it is fairly modest."
Is the dress very blingy?! "No, it's very Barbara! She has a fur-trimmed cape, which Heidi Thomas, the writer, insisted on, because it is a winter wedding and she needs to keep warm. But the dress is very simple and not frilly. We tried on some that were very meringuey and that wasn't very Barbara. The dress is the biggest worry, but her pals might help out…"
And how about her choice of bridesmaid? "She chooses Phyllis [Linda Bassett]! The scene where Barbara asks her was one of my favourite scenes ever. They've become such good friends, as Linda and I have, so when I read it, I got teary. But we couldn't get through one scene without laughing when Barbara was looking for a dress and Linda kept popping her head in and out of the changing room!"
Has filming the wedding put you off in real life? "Yes, big time. The whole thing must be so stressful. I get stressed if I invite people to a pub for my birthday! I've never thought about my own wedding and it was surreal being thrust into a wedding dress because I've never had an on-screen wedding before either. Everyone on set kept treating me like it really was my wedding day and asking, 'Are you excited?!'"
Will Barbara make a good vicar's wife? "She will but she is progressive and has her own career too. They're a good match but there might not be babies yet because she visits the family planning clinic in this episode. It was awkward having an actress playing the doctor pretending to look up my skirt to fit a contraceptive cap and now I realise what it's like for our other actresses who come in!"
Tom's ex, Trixie [Helen George], has given them her blessing, but do you like to wind-up Helen in real-life because she is dating Jack? "Of course! But what's boring about Helen and Jack is that they are extreme professionals, so I just end up looking really unprofessional. They're more cool and grown-up but they do have a wicked sense of humour. It's sweet that Trixie and Barbara have become close though. The show is so much about sisterhood, so it was strange to have a conflict, and it's nice that that's been resolved."
Call the Midwife will return at Christmas and we've heard it'll be set in snowy Poplar rather than sunny South Africa this time... "I'm not working if it isn't somewhere abroad and hot, so if it's Poplar again, I'm not interested! No, seriously, South Africa was an incredible trip, but I'm glad it'll be a snowy Christmas. Although the snow machines are horrid, you end up inhaling it and poor Cliff Parisi [Fred] will have to be Father Christmas again probably."
Can you believe this has been your third series as Barbara? "It does feel strange that it's been so long, because it only seems like yesterday that I first got the call that I'd got the role, but my enthusiasm for it hasn't dimmed. How many people go to work and think, 'Hurrah! I want to be here rather than anywhere else'? I just love Barbara too. When she arrived she wouldn't say boo to a goose and now she has grown up and is pretty hardy."
Call the Midwife is going from strength to strength with three more series commissioned, is that exciting? "Oh it's an amazing vote of confidence and there are endless possibilities and avenues to explore. We still get so many lovely messages from people who are touched by it and it's still ambitious in the topics that it addresses. It is always a range of people that come up but one man said to me recently, 'My wife watches your programme and guess what, I don't even mind it'. I found that so annoying. Why can't men admit they enjoy it, it's a good show!"
Before Call the Midwife, you were best known for Siblings and Fresh Meat, would you like to do some more comedy? "That's what I am doing next! I'm in a play in the West End called The Philanthropist [with Lily Cole and Simon Bird] from April and I'm really excited. I'd like to revisit Siblings and Fresh Meat in the future too. I loved both of my characters in those shows because they were horrible. Playing a nasty person is fun!"
Call the Midwife concludes on Sunday at 9pm on BBC1
Caren has been a journalist specializing in TV for almost two decades and is a Senior Features Writer for TV Times, TV & Satellite Week and What's On TV magazines and she also writes for What to Watch.
Over the years, she has spent many a day in a muddy field or an on-set catering bus chatting to numerous stars on location including the likes of Olivia Colman, David Tennant, Suranne Jones, Jamie Dornan, Dame Judi Dench and Sir Derek Jacobi as well as Hollywood actors such as Glenn Close and Kiefer Sutherland.
Caren will happily sit down and watch any kind of telly (well, maybe not sci-fi!), but she particularly loves period dramas like Call the Midwife, Downton Abbey and The Crown and she's also a big fan of juicy crime thrillers from Line of Duty to Poirot.
In her spare time, Caren enjoys going to the cinema and theatre or curling up with a good book.
Thank you for signing up to Whattowatch. You will receive a verification email shortly.
There was a problem. Please refresh the page and try again.