Claire Goose and Matt Bardock: 'The Coroner has really gone up a gear'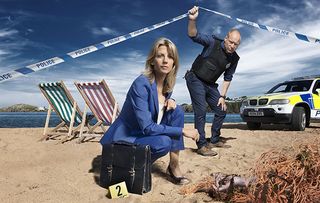 (Image credit: BBC/Mike Hogan)
Claire Goose and Matt Bardock promise darker stories and dangerous twists as daytime drama The Coroner returns
You might think that bloody murders and botched burials would be too much for daytime TV, but when crime caper The Coroner first aired last autumn, viewers were gripped by its tales of scandal, skulduggery and suspicious deaths.
Set in the fictional Devon coastal town of Lighthaven, the series followed the titular coroner, Jane Kennedy (Claire Goose), and local detective Davey Higgins (Matt Bardock) as they joined forces to investigate unexplained, and at times disturbing, deaths.
So when TV Times heard the hit show would be back for a second series, we headed to The Coroner's home in the West Country to seek out its leading duo and find out what sinister seaside crimes are in store this time around…
What can we expect from series two?
Matt: "We've got pirate heists, lifeboat tragedies, car chases and motorbike stunts. In fact, the whole show has really gone up a gear, with more action and bigger set pieces, and there's a spectacular skydiving stunt in the first episode."
Claire: "There's also a Lord Lucan-themed episode, plus a story that has a slight Hannibal Lecter feel… It's freaky! The stories do seem to be a bit darker this series."
Jane and Davey have got history, will we finally see them rekindle their romance?
Claire: "They have a much deeper relationship now and they're beginning to trust each other and open up about things. You do find out more about what went wrong in the past between them is some moving and upsetting scenes.''
Matt: "It would be interesting to see what would happen if they got together, but then there might not be a show any more! I think the 'will they-won't they?' element is an important part of the series. Essentially, they are 15-year-old sweethearts who haven't really grown up. But instead of skimming stones and scraping knees, they're going out on bigger adventures. However, it's not all cops and robbers with a bit of a twist; they contend with real relationship and parental problems, too. It all comes together somehow to make something a little bit special."
Are you pleased to be back filming in beautiful Cornwall and Devon?
Matt: "We haven't had one duff location on this show, and the landscape changes so much around here. For one episode, we lit up a spectacular cove so it looked a bit like Jurassic Park."
Claire: "You'd think that we're in New Zealand! It's just breathtaking. When we were filming the skydiving stunt for episode one, it was boiling-hot and we were sitting on the grass watching guys jump out of planes, saying: 'This is our office for today'. What a hardship, eh?"
You have a great onscreen partnership, have you had to work hard to get that chemistry?
Matt: "The producers were anxious when they first cast us and they threw us in a room together to see what would happen. We hit the ground running, so that was lucky! We just like to play around and have a laugh. I think we're not too dissimilar from our characters in that way. You could say we're just a couple of big kids!"
Claire: "Yes, I'm quite serious, but Matt really brings out the playfulness in me."
Did you look to other famous TV duos for inspiration?
Matt: "Yes, Shirley MacLaine and Michael Caine in the 1966 film "Gambit". I really wanted those two to get together, too. But only some relationships have that thing that you can't quite put your finger on."
Claire: "I loved Dempsey and Makepeace. I wanted to be her. She was so glamorous and beautiful… And they got together on screen and in real life, too!"
The Coroner airs on BBC1, from Monday 21 November, 2.15pm
Get the What to Watch Newsletter
The latest updates, reviews and unmissable series to watch and more!
Senior Writer for TV Times, TV & Satellite Week, What's On TV and whattowatch.com
Rebecca has more than 20 years' experience in journalism and is now writing about all things telly-related for TV Times, TV&Satellite Week, What's On TV and whattowatch.com (opens in new tab).
She's interviewed all sorts of big-name stars, including Al Pacino, Ewan McGregor, Tom Hardy, Winona Ryder, Benedict Cumberbatch and more. She's also been known to step in front of the camera, dressing up as a 1920s flapper to star in ITV's Mr Selfridge and co-hosting ITV News at Ten with Mark Austin – all in the line of duty!
When she's not quizzing actors, directors and producers, you'll find her bingeing US dramas and anything horror/sci-fi/zombie-themed. But her greatest love will always be Game of Thrones… just don't mention the ending!