Clare Balding to present pioneering new animal show, Operation Wild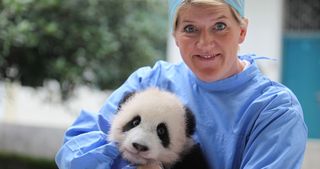 Clare Balding (opens in new tab) and vet Steve Leonard are to present a new three-part BBC One science series, Operation Wild.
It sees them join teams of pioneering vets around the world who are using the most cutting-edge techniques, often adapted from human medicine, to save the lives of animals. These are world-first operations and surgeries that have never been seen before on television.
"Being an animal lover, I jumped at the opportunity to be a part of this new series," says Clare, best known as a sports commentator. "It was fascinating to see the new ways in which extremely talented vets are saving these precious animals."
The operations use innovative techniques to tackle a variety of problems, and the vets are drawing from human medicine wherever it will help. In China, Clare meets a giant panda rescued from the wild who is given an MRI scan to uncover what's behind her highly unusual behaviour.
In Laos we see Champa, the first moon bear in the world to have keyhole brain surgery for a rare condition called hydrocephalus. Over in South Africa, Thandi, a white rhino was attacked by poachers for her horn and left for dead. Her wound never healed and vets decided their only option was a skin graft, so they called in specialist help from a plastic surgeon who usually operates on people.
Vet Steve Leonard says: "I loved being part of the show and being hands on with the animals. The vets we meet in this series are truly brilliant, using pioneering techniques which are so important for the animals and which, hopefully, will set a precedent and be used again."
The series will be shown later this summer.
Thank you for signing up to Whattowatch. You will receive a verification email shortly.
There was a problem. Please refresh the page and try again.