Coronation Street fans want THIS new twist in the Stephen Reid killer storyline
Coronation Street viewers think the Weatherfield villain needs to go.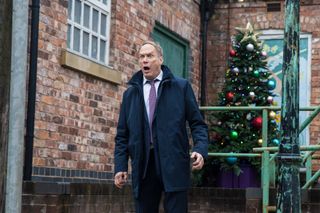 (Image credit: ITYV)
Coronation Street's Stephen Reid has been getting away with murder — quite literally — and fans have had enough.
In a new twist, viewers reckon it's time the cobbles villain got his comeuppance, and the sooner the better.
Will Stephen get caught out or just carry on killing?
Stephen's scheming has ramped up on Coronation Street in recent weeks as he's gone to increasingly desperate lengths to repay the huge debt he owes to his ex-wife Gabrielle.
After considering bumping off Audrey for the inheritance, Stephen is now working on a new project — fleecing Tim Metcalfe's mum, Elaine.
And on top of all that he's been trying to conceal the fact he's a murderer.
Stephen killed Jenny Connor's fiancé Leo Thompkins back in September by throwing him over the balcony of Underworld.
Leo had worked out Stephen was trying to steal a substantial amount of money from Audrey and was ready to tell the Platt family everything.
Despite having never committed murder before, Stephen knew exactly what to do next.
After disposing of the body and burning his belongings, he sent text messages to Jenny and Leo's dad Teddy, making out Leo had moved to Canada and didn't want them to contact him.
But secrets don't stay buried in Soapland forever.
Stephen's web of lies and deceit started to unravel when Teddy returned to Weatherfield and revealed Leo had never arrived in Canada.
He also let slip he had credible evidence the texts from 'Leo' were sent from the cobbles.
Stephen tried to stop Teddy from sharing his findings with Jenny, but the guilt was written all over his face.
But before Teddy could do anything about it, he was hit by a van and left lying unconscious on the cobbles.
How very convenient!
Following the shock incident, Corrie fans took to social media demanding an end to Stephen's storyline...
Many will be hoping Teddy survives and will be the one to bring Stephen to justice.
But there's also a strong possibility he'll become the ruthless Reid's next victim.
Could Stephen start racking up a body count?
Coronation Street usually airs on Monday, Wednesday and Friday on ITV at 8pm.
Get the latest updates, reviews and unmissable series to watch and more!
Laura has been a journalist for over a decade, writing about soaps, TV entertainment, fashion, beauty, and food. After graduating from university, she started her career working at a national soap and TV magazine. During her seven-year stint there she joined the cast of Emmerdale for a tour around the famous village, partied with soap stars at awards bashes, interviewed her acting idol David Suchet, and sat in the front row of Strictly Come Dancing.
Her heart lies with the soaps, and her all-time favourite character has to be EastEnders' Pat Butcher - no one rocked a big earring quite like her. She's also a huge fan of detective crime dramas, particularly old school Inspector Morse, Endeavour, and adaptations of Agatha Christie's Marple and Poirot. When she's not writing, she loves a spot of second-hand shopping and going on adventures with her young son.
Thank you for signing up to Whattowatch. You will receive a verification email shortly.
There was a problem. Please refresh the page and try again.