Coronation Street star Jack James Ryan opens up about Jacob Hay's shock exit
Coronation Street star Jack James Ryan has quit the soap after nearly two years as Jacob.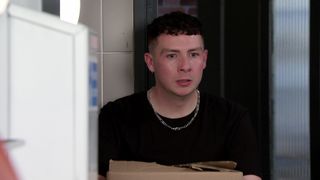 (Image credit: ITV)
Coronation Street's Jacob Hay bid a heartbreaking goodbye to the cobbles tonight when he was forced to leave by his drug dealer dad, Damon.
Jacob had riled his father by disposing of a large package of cocaine that was concealed in a Bistro delivery. In dramatic scenes, Damon revealed that, in order to keep the heat off himself, he'd told his accomplices that Jacob had stolen the drugs. He then threatened to hurt Amy if his son didn't disappear immediately.
Desperate to protect his girlfriend, Jacob faked a phone conversation to make Amy think he was dealing again. He then left Weatherfield in a cab, as devastated Ames wrongly believed he'd gone back to his bad ways.
Speaking to What To Watch and other media, Jack James Ryan discussed Jacob's turbulent two years on Coronation Street and explained why he's decided to call it a day…
What made you decide to leave Coronation Street?
"It was a really hard decision because I love the character so much, but I was coming up to the two-year mark on the show. The conversations upstairs were very much about looking at the long haul of the character, which was incredibly humbling, but I'm still young and there's so much stuff that I want to go and do.
"I also felt that I'd done what I intended to do. We talk about Corrie bingo cards, where you tick off things you've done. I've played the villain, I've had my redemption arc, I punched Steve McDonald, I went to prison, I even moved into number one Coronation Street with Ken Barlow - you can't get much better than that! It just felt like the right time to leave the show."
Was it emotional to film your final scene?
"We don't film everything in order, so I filmed Jacob's final scene two weeks before I left. My last scene was something random with Ciaran Griffiths outside Underworld, but it was really sweet because Elle [Mulvaney, who plays Amy], Harriet [Bibby, who plays Summer] and James [Craven, who plays Aaron] came in on their day off to watch me and gave me a big hug at the end, and then Iain [MacLeod, Coronation Street producer) came out with a bottle of champers and made a really nice speech. It was super emotional."
Why do you think Jacob got involved with his dad again when he had been let down by him so many times in the past?
"I've had this a lot from the viewers. I think the simple answer is that he's his dad. Jacob has been neglected his whole life — his mum was in and out of prison, his dad wasn't around, and he was made to push drugs as a teenager by his uncle. He's never had that family unit, and that's the thing he's craved for the most his whole life. The sad thing is that Jacob could've had that family unit with Amy, Steve and Tracy. I think over time, Steve and Tracy would've adopted him as a son-in-law."
Was it hard for him to leave Amy behind?
"She was his absolute world — she still is and I think she always will be. Amy was so much more than just a relationship. She saw something in him that no one else saw, and she was willing to risk everything for him. So this choice to leave was catastrophic for Jacob and it goes against all his natural instincts, but sometimes you love someone so much, you have to let them go."
He leaves with everyone thinking the worst of him — is that tough for Jacob?
"It's crushing because it's so unjust and there's nothing he can really do about it. That people think he was lying the whole time and was a drug dealer all along is heartbreaking — not just for Jacob but for me too. Hashtag justice for Jacob!"
What will you miss most about playing Jacob?
"Everything. Jacob is like my little baby; I have serious attachment issues already! I'll miss his charisma and his charm, but I will certainly not miss his wardrobe. It's funny because when you finish a character and you leave, the costume department says 'Come in, you can take what you want' and apart from a few keepsakes I was like 'No, you're fine, I don't want any of it.' You're not going to see me knocking about in double denim around Manchester!"
Would you like Jacob to return at some point and clear his name?
"Never say never. A fantastic writer on the show, David Proud, said the best time to bring a character back is when they're going to cause the most damage. I've had a daydream where, in five years time, Amy's settled down and found the man she loves and they're just about to get married when Jacob bursts through the door. I think that Amy would secretly be happy to see him. I think the connection was so strong; they were soulmates."
What have you enjoyed most about working on Coronation Street?
"I grew up on this show. My mum never missed an episode so, in turn, neither did I. I watched and invested in these characters for years and it was such a proud moment, coming from Manchester, getting to walk on the cobbles. And the studios are 15 minutes from my house — as an actor, you're usually up and down the country, staying in hotels, living out of a suitcase. Getting to just be in the place that you love, surrounded by your family and your friends, it's been really amazing for me to have a normal life for a bit."
What's next for you?
"I'm going to do that really annoying thing that actors do when they tease something that they can't really talk about. I have booked a job, and I'm really excited about it. I start filming next month and I'll be filming for the next four months. I can't wait to reveal what I'm doing..."
Coronation Street airs hour-long episodes on Mondays, Wednesdays and Fridays at 8 pm on ITV — see our TV Guide for full listings. You can also catch up on episodes on ITVX.
Get the latest updates, reviews and unmissable series to watch and more!
Alison Slade has over 20 years of experience as a TV journalist and has spent the vast majority of that time as Soap Editor of TV Times magazine.
She is passionate about the ability of soaps to change the world by presenting important, issue-based stories about real people in a relatable way.
There are few soap actors that she hasn't interviewed over the years, and her expertise in the genre means she has been called upon as a judge numerous times for The British Soap Awards and the BAFTA TV Awards.
When she is not writing about soaps, watching soaps, or interviewing people who are in soaps, she loves going to the theatre, taking a long walk or pottering about at home, obsessing over Farrow and Ball paint.
Thank you for signing up to Whattowatch. You will receive a verification email shortly.
There was a problem. Please refresh the page and try again.