Couch Potato Pickings: Shaun of the Dead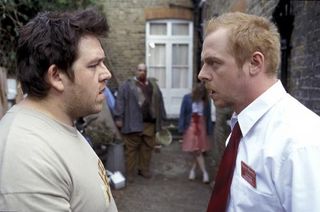 As a big fan of Spaced and a big fan of horror it's hardly surprising that I love this zom rom com written by and starring Simon Pegg. Click here for the film's fan site.
As the title suggests, it's a spoof of the George A Romero horror classic Dawn of the Dead, and the story revolves around Pegg's character Shaun, a couch potato (great to see us getting representation on screen) who has just been dumped by his girlfriend.
Pegg's Spaced partner Jessica Hynes (formerly Jessica Stevenson) also stars in the film. She plays Shaun's ex-girlfriend Yvonne and crops up briefly near the beginning, before Shaun has noticed the presence of the undead in his neighbourhood. When he bumps into her again, he is attempting to get his party, including comic actors Lucy Davis, Nick Frost and Penelope Wilton, to the pub without being intercepted by zombies. Since Yvonne is with her own posse - played by a similar group of great British comic actors, including Martin Freeman, Matt Lucas, Julia Deakin - the impression is that she is starring in a parallel zom rom com of her own.
Wouldn't it be great if they'd produce and release this parallel version? I'd watch it. Yes it would be the same story, but with a different cast of comic actors. It would be great fun to compare and contrast. However, since Shaun of the Dead got released back in 2004, I guess the moment's gone for an Yvonne of the Dead. I do wish they'd do a sequel to Shaun though. The lead character would have to be called Fay or Kay or Ray, what do you think?
On ITV2 tonight at 9pm
Get the latest updates, reviews and unmissable series to watch and more!
Thank you for signing up to Whattowatch. You will receive a verification email shortly.
There was a problem. Please refresh the page and try again.