Couch Potato Pickings | Wedding Movies: the good, the bad, and the unexpected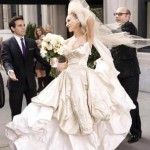 Yesterday, two of my friends tied the knot and held a good old knees-up to mark the occasion. That's the best sort of celebration in my opinion - simple, yet romantic.
Simplicity, however, is not a characteristic of movie marriages, is it? Getting hitched has to be as complex and dramatic as possible when it's taking place on the silver screen. Matrimony in the movies is about the good, the bad, or the unexpected.
The Good
The 'dream come true' movie wedding has to be Love Actually's nuptials between Juliet and Peter (Keira Knightley and Chiwetel Ejiofor). Could it be more perfect?
http://www.youtube.com/watch?v=A1lLq0l04qk&fs=1
The Bad
If Richard Curtis ever wanted to make an extra few pounds he could easily moonlight as a wedding planner, considering how many movie marriages he's dreamt up. The fourth wedding in Four Weddings and a Funeral where Charles (Hugh Grant) acknowledges his lack of love for fiancée Henrietta (Anna Chancellor) at the altar surely has to be THE biggest nuptials nightmare on film.
The Unexpected
Carrie Bradshaw gets carried away with planning her dream wedding in Sex and the City, but when she finally does get hitched, it's nothing like the big day of her fantasies; it's better.
What do you think? Which movie marriages make you smile, groan or gasp?
There are four wedding movies showing today to help you decide, each with their good moments…
their bad moments...
...and a few moments that may be a little unexpected.
Love blossoms in the wedding hospitality world in quirky feelgood romcom The Wedding Singer on Comedy Central at 10.50pm.
A gawky Abba-loving misfit yearns for the perfect wedding in Australian black comedy classic Muriel's Wedding on Watch at 10pm.
Sky Movies Comedy presents chick flick fluff about a serial bridesmaid who dreams about becoming a bride in 27 Dresses at 6pm.
Watchable but unmemorable variation on the My Best Friend's wedding theme Made of Honour is showing on Sky Movies Prmeiere at 8pm.
Get the latest updates, reviews and unmissable series to watch and more!
Thank you for signing up to Whattowatch. You will receive a verification email shortly.
There was a problem. Please refresh the page and try again.