Countryfile's Anita Rani: 'I danced in a Bollywood movie!'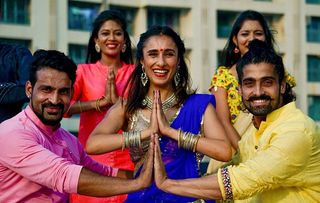 The Countryfile presenter packs her dancing shoes and heads for Bollywood to join the world's biggest film-making industry!
Anita Rani might have grown up in Bradford, but like many British Asians, from a young age she was captivated by the beautiful colours and vibrant sounds of Bollywood.
Producing over a thousand films a year – more twice as many as Hollywood – the Indian film industry is now the biggest on the planet, but the movie-making Mecca remains a mystery to many Westerners.
Anita is determined to change that in this two-part series, which is part of BBC's Big British Asian Summer season of programmes, by embarking upon an extraordinary journey through the world of Indian cinema and going behind the scenes to tell Bollywood's story.
Here the Countryfile presenter tells us all about her remarkable experience, during which she even appeared in a film herself…
Is this a series you've wanted to make for a while?
"It certainly is. I did Strictly Come Dancing a couple of years ago and I guess I just wanted to carry on dancing, so when the BBC said yes I was thrilled. We look at the story of Bollywood, from its roots in Indian culture, to the way it has adapted to keep pace with India's rapidly changing society. Plus I got to meet some of the biggest stars and I even got a small role in a dance sequence!"
https://youtu.be/SiLu-lGvrXw
Tell us more!
"I was on set speaking to the film director and he asked if I'd like to be an extra. They got a costume and in I went, which was a bit nerve-racking, because Bollywood dancing is pretty difficult. It was great fun but I could have done with a bit more practice!"
What are your earliest memories of Bollywood?
"It was something we watched at the weekends, when we had people over. Mum and her friends would go down to local Indian shop were the guy had all the latest films on VHS and they'd pick a few out and come back and watch them together. We never really did it as a family, because my dad wasn't into Bollywood, so he had find something else to do! I absolutely loved some of them because they were so magical, you could disappear in to them."
What was it like meeting the biggest Bollywood stars?
"I met a few, including Anil Kapoor – who starred in Slumdog Millionaire – which was amazing. They call Bollywood stars demi-gods out there, because they're not just like stars we have in the West, they're far bigger. It's how I imagine Hollywood in the 50s, with Marilyn Monroe and Frank Sinatra, that level of stardom. These guys can't walk down the street in India, they'd literally be torn to shreds. They love coming to London in the summer because they can potter around and aren't recognized as much."
Is it true you had a Bollywood band at your wedding?
"Yes we did. We didn't tell anyone, so it was a big surprise when they came in playing Bollywood classics and my husband and I came in behind them. We had 450 of our nearest and dearest there, which is quite small for an Indian wedding, but they all loved it!"
Countryfile Live is coming up in a couple of weeks, are you excited?
"So excited, because it's going to be such an amazing weekend. When we did the first one a couple of years ago we didn't know how it was going to go, but we were blown away when we saw how many people had turned up! This year's is going to be extra special, we'll have great food, arts and crafts, Q&As with the presenters, farm animals, boating and fishing. It's the show's 30th anniversary so hopefully we'll have a big cake too. Everyone should come along!"
Strictly will be back soon as well, do you think any of your Countryfile co-hosts could follow you on to the dance floor?
"I would love it if they did! I try to convince them all to go on there, like Matt and I did, but none of them have gone for it so far. I'd love to see John Craven go on there and do a waltz, because he's the nicest man on earth and I think he'd be great. You never know, it might get him a part in a Bollywood film!" Bollywood: The World's Biggest Film Industry begins on Monday 13 August at 9pm on BBC2
Get the latest updates, reviews and unmissable series to watch and more!
Thank you for signing up to Whattowatch. You will receive a verification email shortly.
There was a problem. Please refresh the page and try again.