Dakota Fanning: 'I fainted when I tried on my costume for The Alienist!'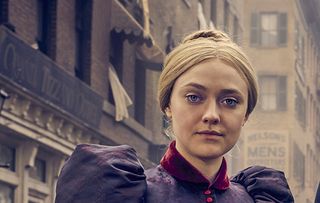 (Image credit: Kurt Iswarienko)
Dakota Fanning tells TV & Satellite Week about swapping the big screen for TV and her new Netflix period thriller The Alienist…
The fascinating early days of psychology are brought to life in Netflix's dark crime thriller The Alienist. The 10-part series, set in late 19th century New York City, sees Hollywood star Dakota Fanning play spirited Sara Howard, a secretary who works in the city's police department. Sara teams up with psychologist Laszlo Kreizler (Daniel Bruhl), known as an alienist, and newspaper illustrator John Moore (Luke Evans), to track down a twisted serial killer who is mutilating and murdering young male prostitutes.
TV & Satellite Week: You, Daniel and Luke are all better known for your film work. What appealed about doing a TV series?
Dakota Fanning: "Because we can really see these characters ebb and flow and grow, so we all felt lucky to have 10 hours to tell their story. We didn't feel like those relationships were rushed, it's a slow build, which makes it more believable. Also, as much as The Alienist is a mystery, the series is about the baggage each of the three main characters brings and working out their personal demons."
TVSW Tell us about Sara
DF: "She is a fan of Kreizler's work and that tells you a lot about her. Kreizler is an outcast because his ideas are controversial but he's a blazing a trail and, as the first woman in the police department, Sara has that in common with him because women then had so many restrictions."
The series is very dark, was that challenging?
DF: "I loved the dark subject matter because it was a part of that world and time period. I am naturally attracted to that as an actor. But there is so much more to it than that and you become desensitised to the darkness as you are working on it. I got lost in the world more than I usually do."
TVSW Sara's costumes are impressive, but were they tough to wear?
DF: "I fainted in my first fitting so that give you some indication! But it was a privilege wearing those dramatic sleeves and skirts with small waists and the corsets. It's an easy way to get into the character. It changes how you move and breathe."
TVSW The series is filmed in Budapest, what was that like?
DF: "Filming in Budapest in the summer was sweltering in those costumes. But I loved spending six months there, it was so beautiful. I cried when I left, I was hysterical! Before I went, I was nervous about spending that long away from home but Daniel, Luke and I just connected. That made the experience so much fun."
The Alienist is available on Netflix from Thursday April 19th
Get the latest updates, reviews and unmissable series to watch and more!
Thank you for signing up to Whattowatch. You will receive a verification email shortly.
There was a problem. Please refresh the page and try again.