One of his final interviews... Dale Winton - Why I took a break from television and why it's great to be back!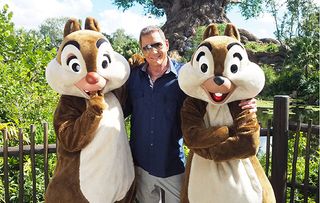 The former Supermarket Sweep host - who has sadly died aged 62 - gives here one of his last ever interviews in which he spoke about his absence from our screens, his late mother and his delight at returning with a new travel show on Channel 5 called Dale Winton's Florida Fly Drive
There was a time when Dale Winton was barely off our TV screens. But ever since the BBC lottery game show In It To Win it came to an end two years ago, Dale has been taking a break from the spotlight.
Now he's back with a 1500 mile, four-week road trip across Florida, taking in the tourist sights of Disney World, Miami's Muscle Beach and the Everglades – and the series reveals a very different, more personal side to the Supermarket Sweep star.
In one of his final interviews, we caught up with Dale Winton - who has sadly died aged 62 - for an exclusive chat in which he told us what forced him to take a break from telly, the emotional side to his Florida adventure and the future of the Supermarket Sweep…
You've had a bit of a break. Does it feel good to be back?
Dale Winton: "Absolutely! I've kept a low profile because I had about four surgeries. I had a shoulder problem and a knee problem, so I took a break to get myself sorted. It meant I couldn't exercise, so I've been dieting like crazy, but then when I was asked to do this show I thought it would be fun. I'm one of those people who work to live rather than live to work, so it's been very hard work – I'm used to being in a studio but this is something wholly different! People are going to see me in a way they've never seen me before!"
You secretly love cars. Did you enjoy driving around Florida?
DW: "Yes, that was almost the best bit for me! People are amazed because they expect me to be into musicals but cars are my obsession – I'm such a petrol head. My ideal job would be doing Top Gear!"
What was the best place you visited?
DW: "Apart from Disney World and St Augustine, which is America's oldest city, I loved West Palm Beach. It's the most expensive zip code in the whole of America and the houses are amazing but you have to be a billionaire to live there. We visited Versace's house and they allowed us to go into his private quarters and see his bedroom – unbelievable! I mean, the man knew how to live and he knew how to decorate."
You also visited Cassadaga, the psychic capital of the world, where a medium contacted your late mother, Sheree, who took her own life when you were 21. What was that like?
DW: "The medium knew nothing about me except my name, so I was wondering whether Mum would come through and she did. It was very emotional and you see me looking upset and distressed, which is not what you expect from Mr Saturday night telly! It was a weird experience, but Mum suffered with very bad depression and she'd attempted suicide quite a few times, so there was something very comforting and reassuring to be told that she was happy and at peace."
You couldn't resist popping in to a few American supermarkets. Is shopping a passion of yours?
DW: "You know, for as long as I can remember, I've loved shopping and the supermarkets in America are huge – I can spend hours wandering around them! It sounds peculiar, but I almost consider shopping to be a hobby and my house is testament to that – I'm verging on becoming a hoarder with all the stuff I shouldn't really have bought!"
Talking about shopping, is there any truth the rumours that Supermarket Sweep making a comeback?
DW: "Well, the company that made it originally took it to the TV festival in Cannes recently and it created a lot of interest. I loved doing that show so if they wanted to do it again I would. Then again, I wouldn't be surprised if they wanted 22-year-old to present it. I'd be devastated but, you know, that's what happens. But I'll always feel passionate about Supermarket Sweep because if it wasn't for that show I wouldn't have done anything I've done since!"
Dale Winton's Florida Fly Drive starts on Channel 5 at 9.00pm on Thursday 8th February.
Feature writer for TV Times, What's On TV, TV & Satellite Week and whattowatch.com
Sean has been writing about all things telly for over 10 years and in that time he's been lucky enough to interview stars like Ian McKellen, Tom Hardy and Kate Winslet. His favourite shows are The Great British Bake-Off, People Just Do Nothing and Succession and in his spare time he enjoys drinking tea, doing crosswords and watching football.
Thank you for signing up to Whattowatch. You will receive a verification email shortly.
There was a problem. Please refresh the page and try again.