Dame Judi Dench and Daniel Radcliffe to play on Pointless Celebrities?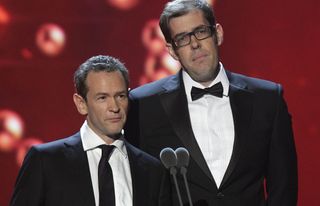 (Image credit: PA Archive/Press Association Ima)
Pointless host Alexander Armstrong (opens in new tab) has revealed that they are hoping to get Dame Judi Dench (opens in new tab) and Harry Potter star Daniel Radcliffe (opens in new tab) to take part in the quiz show, but their agents aren't as keen as they are.
"Any celebrities that fancy coming on, always good to have them," said Alexander, who co-hosts the show with Richard Osman (opens in new tab).
"We get promises from people. Judi Dench has said that she'll come on - this was a message passed to us by her cousin. She said, 'please, please ask me'.
"The trouble is we have to ask people through their agent and agents always say no.
"Daniel Radcliffe is very keen to come on, but we can only get to him through his gatekeepers."
Alexander also revealed that the celebrity editions of Pointless are much more difficult to film than the normal episodes of the quiz show.
"They're much longer to do," he said.
"They're completely different to the regular shows. And I think celebrities are a little bit on edge, because they're worried they're going to look stupid. I would be if I went on, you'd be terrified, because they've got much more to lose.
"Also, they never shut up! They talk the whole way through. There comes a point where you do just have to say 'Shhhh'."
Pointless (opens in new tab), BBC1, Mon-Fri, 5.15pm.
Pointless Celebrities (opens in new tab), BBC1, Saturday July 12, 5.50pm.
Thank you for signing up to Whattowatch. You will receive a verification email shortly.
There was a problem. Please refresh the page and try again.