Doctor Foster's Tom Taylor reveals he wants to play a psychopath! (VIDEO)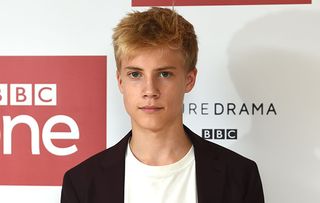 The young Doctor Foster star has just made his first blockbuster, but already has his eye on the types of challenging roles he wants in the future
Tom Taylor resumes his role as Gemma and Simon's son Tom, in series two of Doctor Foster. But given the success of the first series it's unsurprising the 16-year-old actor is thinking about what he could do next.
He revealed: "I would like to continue getting into the minds of different characters and playing different...I would hopefully like to play a psychopath or something. Or a murderer and get into that mind and see what goes on in their heads."
We wonder if Suranne Jones' and Bertie Carvel's warring characters in Doctor Foster played any influence on this.
Since the first series screened, Tom has worked alongside Idris Elba and Matthew McConaughey in The Dark Tower, which is currently in cinemas.
He explained that shooting for TV and film were very different and that he enjoyed the pace of television, but bonded with the film cast while in Cape Town, South Africa.
He said: "I did four months of filming for Dark Tower for an hour and a half film. Whereas [Doctor Foster] was four months filming and five hours of footage. So you feel the buzz when you come into television."
Speaking about why Doctor Foster was so popular, Tom had similar thoughts to his on-screen mum Suranne.
Read More...
FIRST LOOK: Suranne Jones features in blood-dripping Doctor Foster picture
Bertie Carvel: Simon is 'trying to take the wheel' as Doctor Foster returns (VIDEO)
Doctor Foster returns! Suranne Jones: 'If Gemma had therapy we wouldn't have series 2' (VIDEO)'
Doctor Foster's Suranne Jones: Becoming a mum made me realise the 'enormity' of a marriage falling apart (VIDEO)
He said: "It is like every couple's worst nightmare, or every family's worst nightmare. To watch something where you are watching it thinking 'oh bloody hell, I hope this isn't happening to me'. You can kind of see why the audience is so attracted to it."
Tom alongside Suranne Jones (Gemma) and Bertie Carvel (Simon)
Tom added: "You kind of just get absorbed into the drama. You just hope that would never happen to you. But you don't want to not watch it because it is so dramatic. And I think that is what the audience loved about it."
As with series one, it seems viewers can expect to be kept on the edge of their seat.
Tom said: "There is quite a lot of secrets in this so it is tempting to just spoil it for everyone, isn't it? Just ruins everyone's day..."
He joked: "It is, it has got a lot of secrets in. When you watch it, they come, you realise them and... I don't want to spoil anything, I'm tempted, but I won't!"
Doctor Foster series two premieres on BBC1 at 9pm on 5 September
Interview by Caren Clark
Get the latest updates, reviews and unmissable series to watch and more!
Thank you for signing up to Whattowatch. You will receive a verification email shortly.
There was a problem. Please refresh the page and try again.