Doctor Foster's Suranne Jones: Becoming a mum made me realise the 'enormity' of a marriage falling apart (VIDEO)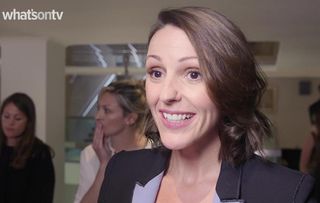 Suranne Jones reveals who in the Doctor Foster cast she hopes her son will take after and how becoming a mum influenced her approach to the series.
It has been a long two years since Doctor Foster first got the nation hooked. During this time actress Suranne Jones, Gemma, became a mother for the first time.
Speaking to What's On TV, Suranne revealed how this milestone also shaped her approach to Doctor Foster series 2.
She said: "Of course I could have done it if I hadn't of become a mum but I think that becoming a mum makes you understand the enormity of what would happen if your marriage fell apart and you have a child, which I perhaps didn't understand before."
The BAFTA-winning actress and her husband, Laurence Akers, welcomed their little boy to the world in June 2016. She went back to work after six months and admits that she was still quite hormonal.
However, during the interview Suranne revealed there is someone in the Doctor Foster cast she hopes her little one will take after...
Suranne gushed: "If my son grows up to be anything like Tom Taylor [her on-screen son], the actor, who's gorgeous and brilliant I will be very happy."
As for her other cast members, it seems Suranne was able to have a little more fun with actor Bertie Carvel off-screen than their tense relationship on-screen might suggest.
Suranne recalled one example where she got Bertie to join in planking (an exercise move designed to build core strength) between shots.
She said: "He [Bertie] just came along and did like five, a five-minute plank within like, with no practice what so ever!"
Suranne speculated: "I think he is quite fit under that jacket!"
She also revealed that although the two have a great relationship off-screen she struggles to detach when she watches Bertie on screen.
She said: "I love working with him, but he has this thing when you watch him...I hate Simon when I watch him on screen and at the same time this series I kind of cared for him as well."
Based on how series one finished we are not sure we will feel the same...
Doctor Foster will return to BBC1 in early September
Interview by Caren Clark
Get the latest updates, reviews and unmissable series to watch and more!
Thank you for signing up to Whattowatch. You will receive a verification email shortly.
There was a problem. Please refresh the page and try again.