Doctor Who: 'The first episode is a story of survival' reveals Chris Chibnall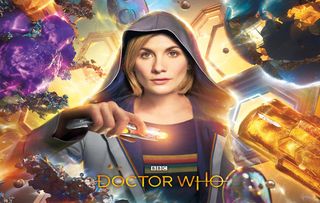 (Image credit: BBC/Elliot Wilcox)
Chris Chibnall, writer and executive producer of Doctor Who, explains why the gender of the new Doctor - played by Jodie Whittaker - is no big deal.
Hands-up if you've never watched Doctor Who before, and don't know what a sonic screwdriver does or the origins of the TARDIS? Or maybe you've been a bit put-off from watching in the past because of how super-seriously fans take the long-running sci-fi series?
The good news is, the forthcoming new series, which stars Jodie Whittaker as the first-ever female Doctor, has been written with both old and new viewers in mind.
"If you've never seen the show before you can watch the first episode and jump straight in," explained executive producer Matt Stevens during an interview with TVLine at this year's ComicCon in San Diego. "You don't need to know anything. But if you already a great fan of the show there are lots of nice things laid out for you, lots of little nods. It's still Doctor Who, but new viewers can jump aboard straight away and fall in love with it."
Also, despite the internet going into meltdown last July over the news Broadchurch star Jodie Whittaker would be the first female Doctor since the series began in 1963, new head writer and executive producer Chris Chibnall (who also wrote Broadchurch) said the gender of the travelling Time Lord is not going to be a big deal in the new run.
"It's not really a gender-related story," Chris said. "There are stories during the season where it pops up again but the first story is very much a story of survival for the new Doctor. The last we saw of her, she was falling through the air above Planet Earth. So it's less about gender and more about, 'How am I going to get out of this!'"
The Doctor will also be joined by three new travelling companions in the news series: Bradley Walsh as Graham O'Brien, and ex-Hollyoaks stars Mandip Gill as Yasmin Khan and Tosin Cole as Ryan Sinclair.
Doctor Who returns to BBC 1 in the Autumn
Get the latest updates, reviews and unmissable series to watch and more!
Thank you for signing up to Whattowatch. You will receive a verification email shortly.
There was a problem. Please refresh the page and try again.