Dominic West reveals why filming the new adaptation of Les Miserables made him cry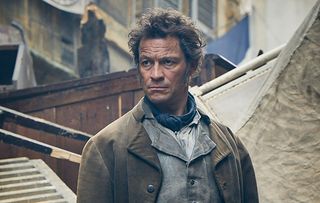 (Image credit: BBC/Lookout Point/Robert Viglask)
Dominic West reveals why starring in the BBC's new adaptation of Victor Hugo's classic novel Les Miserables was wonderful, but emotional....
Standing in a town square in Brussels, TV Times is resisting the temptation to burst into song. We're on set to interview Dominic West for the new BBC1 six-part adaptation of Victor Hugo's 1862 novel Les Miserables, the story that has wowed West End audiences for more than 30 years… but this is not a musical.
Not a note of that famous score will be played in this series, but instead an all-star cast including Olivia Colman, Derek Jacobi and Lily Collins, will bring the story to life in new detail, led by Dominic in the lead role of Jean Valjean and the brilliant David Oyelowo as his nemesis Inspector Javert.
The epic tale about a convict trying to outrun the injustices of the past is in safe hands with Welsh writer Andrew Davies, who recently gave us a hit small-screen version of War & Peace and what many would call the definitive adaptation of Pride and Prejudice, with Colin Firth and Jennifer Ehle.
http://www.youtube.com/watch?v=isQGHwWyJ6k
Here Dominic, reveals what we can expect from the small screen version of Les Mis, and tells us why he dreaded his scenes with The Durrells' Josh O' Connor…
TV Times interview with Dominic West
TV Times: What made you want to play Jean Valjean?
Dominic West: "He's the best superhero ever written. I've played a lot of villains and I don't find them interesting anymore. After a tough start, he ends up trying to be the best man he can be when all the odds are against him, and he makes goodness interesting, which is quite rare. If he's not fighting bad guys, he's climbing out on ships masts to save a sailor, all while battling his own demons. He's incredible, what a great part to play."
TVT: Valjean has a nemesis, Inspector Javert – how central is that conflict to the TV series?
DW: "Their rivalry is a big part of the story, it's a cat and mouse game. At first we couldn't quite figure out why Javert is so obsessed with him, but it all became easier when David (Oyelowo) started playing him with a London accent and I gave Valjean a Yorkshire accent – then it seemed completely clear to me what the problem they had with each other was! We did think about French accents but it sounded too much like 'Allo 'Allo…'"
TVT: Did you work closely with David to develop that combative relationship?
DW: "Actually if you're playing someone's adversary you tend to avoid each other in real life, it helps with the acting. I also remember on The Wire all the cops stuck together and all the gangsters did too, so we have a respectful distance from each other."
TVT: Valjean is renowned for being a physically strong man, did you have to do much preparation for the role?
DW: "I did a bit of boxing training in advance, which nearly killed me. The idea was to get really buffed up but, you know, best intentions! There's a famous scene where Valjean carries a student, Marius, through the sewers and I was dreading that because Josh O' Connor is enormous! I mean, he's slim but he's six foot four. We got through it…"
TVT: This is an epic story that spans decades, how did you find your time in make-up, transforming through the ages of Valjean?
DW: "It's quite an extensive process – a lot of the plot is reliant on the fact that the main characters don't recognise each other after a few years have passed, and it's a joy for me as an actor that I have to look totally different at the start to halfway through. They cooked up all sorts of horrible prison tattoos and beards for when Valjean's a convict and then I have sideburns later. I don't enjoy wearing them, I think they make me look like Fred West again, but they're a compromise because I hate stick-on beards."
TVT: Who have you most enjoyed working with in this incredible all-star cast?
DW: "It's a huge cast, with so many great people. I had one little scene with David Bradley, who I've admired for ages and I wish I'd had more scenes with Olivia Colman and Adeel Akhtar. Adeel is the funniest guy I've ever met and both Olivia and I are doing up houses at the moment, so we keep walking around the set saying, 'Do you think they'll want those glasses at the end of the shoot? That bench over there is really nice…' "
TVT: Are you a fan of the musical version of Les Mis?
DW: "I've never seen it, but I've read the book and it's the best I've ever read. It's incredible storytelling, and deals with timeless themes like guilt and revenge, the fight against injustice and the plight of the poor. I never have to worry about what Valjean is thinking because it's all there in the book, Victor Hugo really goes into every character's psychology. It's a very thick novel though, we're only covering about ten per cent of it, and the musical must only fit in about one per cent I think!"
TVT: And the big question when it comes to this story – are you going to make us cry?
DW: "Oh I'm in tears all day! I can't stop crying. I just love this man and he has to fight all the time. I love playing this hero, Jean Valjean."
Les Miserables starts on Sunday December 30, BBC1, 9pm
Get the What to Watch Newsletter
The latest updates, reviews and unmissable series to watch and more!