Douglas Henshall: 'This is the strongest series of Shetland yet!'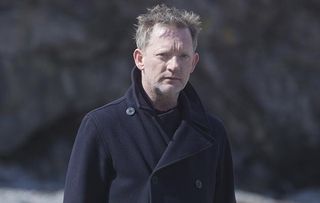 (Image credit: BBC/ITV Studios/Mark Mainz)
Shetland star Douglas Henshall reveals the new series of the brooding, Scottish detective drama is full of surprises…
If you're suffering from TV murder mystery fatigue, don't worry, Shetland returns for a fourth series, that's the telly equivalent of a bracing sea wind.
The pithy new six-part series sees DI Jimmy Perez (Douglas Henshall) simultaneously investigating a cold case killing and a shocking new murder. He's also distracted by his stepdaughter Cassie's (Erin Armstrong) unexpected return to the island, concerned for DS Alison 'Tosh' McIntosh (Alison O'Donnell), who was seriously sexually assaulted in series three, and at loggerheads with his boss Rhona Kelly, played by Julie Graham.
Here Shetland star Douglas Henshall tells TV Times what viewers can expect from the new series…
What can you reveal about the shocking case in the new series?
"The story centres around a possible miscarriage of justice - or maybe this is a veil for something else! Thomas Malone is released from prison, after 23 years, when his murder conviction for killing young Shetland woman Lizzie Kilmuir is declared a miscarriage of justice by the Court of Appeal. As Thomas is from Shetland he decides to return home."
How does this affect DI Jimmy Perez and his police team?
"Naturally there's an awful lot of animosity and suspicion towards Thomas from the local community. Everyone knows who Thomas is and thinks that he was quite rightly sent to jail. Jimmy wasn't living in Shetland when the murder happened in 1993, so he's taking an objective view, whereas everyone else seems to be less objectively involved. Which gets Jimmy thinking, there must be more to this."
You've impressive guest stars in Stephen Walters (Batman Begins, Outlander) and Sean McGinley (Bleak House, The Fall)…
"Sean is just fantastic. I've admired him for many years and was delighted when he came in to play retired DI Drew McColl, who solved the original case that convicted Thomas. Stephen is a really brave actor, he plays newly released Thomas and he's an intriguing character. You constantly have to question what you think of him. He's unpleasant and seems slightly deranged, but does that mean he's guilty? Stephen went the whole hog when it came to playing Thomas!"
Is this series as strong as previous ones?
"That's always my concern when we do it again – can we do it better? And I really think this is the strongest series yet. The storyline is very succinct and clear and it hangs together really well. It questions attitudes and judgements that we make. In the series we ask the questions, what does a murderer look and sound like, as opposed to an innocent person? And how do we make up our minds about these things? We always strive to be better, bigger and more ambitious and I think we have."
How do you prepare for filming in Shetland, given how changeable the weather conditions can be?
"Funnily enough when we filmed in Shetland last May and June the weather was absolutely beautiful. The best we've had in all the years we've been filming there. We couldn't believe our luck! Generally I try not to overdress or bother with big overcoats when we're filming in the cold. I've a theory that taking a coat on and off between takes makes your temperature go up and down, and that makes you ill. It could be a load of rubbish but that's my personal belief and it stands me in good stead!"
Given this is a Scottish-set murder mystery, are you often asked to say 'murder' in a Taggart-like manner?
"My friend Shelley intermittently asks me to please say 'murder' for her! I don't know if it's because of Taggart and Mark McManus's line 'There's been a murder'. I think it's more to do with the way Scottish people, particularly from Glasgow, say it. Taggart was my first TV job. I've a vague memory of lying in a hospital bed with a neck brace on and my legs in stirrups because my character had an accident. If you're from Scotland and haven't been in Taggart it goes on your obituary!"
The new six-part series of Shetland starts on BBC1 on Tuesday 13th February at 9.00pm (Wales, 10.40pm).
Get the latest updates, reviews and unmissable series to watch and more!
Thank you for signing up to Whattowatch. You will receive a verification email shortly.
There was a problem. Please refresh the page and try again.