Downton's Laura Carmichael returns to period costume in Man in an Orange Shirt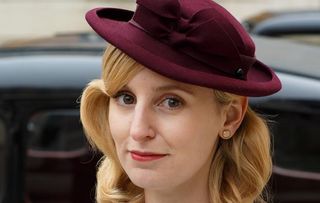 (Image credit: BBC / Kudos / Nick Briggs)
Downton Abbey's Laura Carmichael on the scandals and secrets in her new wartime drama Man in an Orange Shirt
As Downton Abbey's Lady Edith, Laura Carmichael was used to a bit of scandal and that's the case once more as she stars in BBC2's two-part drama Man in an Orange Shirt. The first episode is set during and just after World War Two and sees the actress plays Daphne, the sister of Flora (Joanna Vanderham) whose husband is secretly gay.
Here, Laura tells us more…
How would you describe Daphne? "She is Flora's big sister and she has been married and become a young widow during the war whereas Flora has been evacuated and is teaching at a school. It is brilliant how you see the difference of their experience in the war."
How different are they? "Flora is more naive than Daphne who has had a very different experience and a different war. It seems to be true of many people that lived through it that there is a sort of slight abandonment of the normal restrictions of some morals. In the scenes where they are together, you see Flora's naivety reflected in her sister who is her closest confidante and you see how they are different."
Does she suspect that Flora's husband is gay? "No, but there is a clever moment where Daphne is gossiping about someone else who is gay being found out. Daphne is slightly more knowing about these things so it is salacious gossip to her rather than potentially life-ruining tragedy within a marriage. But they are really close and she picks up that something is not quite right with Flora."
https://youtu.be/e97Gu7MBUS4
Is there any romance for Daphne? "She has a bit of a flirt at Flora's wedding. But what is quite fun about Daphne is that she just investigates a lot of the avenues as a widow – she is doing her own thing!"
Did it make you think about what it was like during the war? "Yes I was doing all the fun detective work you get to do as an actor. So during the war she would have be in London where bombs were dropping. It was just really interesting for me to think about London in the Blitz."
Man in an Orange Shirt premieres on Monday, July 31 on BBC2 at 9pm
Get the latest updates, reviews and unmissable series to watch and more!
Thank you for signing up to Whattowatch. You will receive a verification email shortly.
There was a problem. Please refresh the page and try again.