Eastenders' Sean Mahon hints at gruesome fate for Mel Owen in epic New Year's Day showdown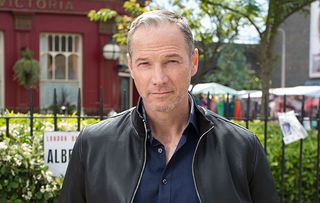 Eastenders actor Sean Mahon has warned that his on-screen wife Mel Owen could reach a grisly end once her revenge plan is exposed on New Year's Day, when the couple are due to marry.
Mel has been plotting revenge ever since she found out that Ray Kelly is married to two other women - and has been hiding not one, but two, secret families.
"He's a dangerous person, and I think if you're married to a dangerous person it doesn't bode well," Sean told Metro.
"If you push a rabid dog into a corner they're going to come at you very, very fast.
"So, as is the case with any decent story, if you're going to pin him into a corner, he's going to come out swinging."
Mel is planning to expose Ray at their wedding - but will things change now that she knows he's not only been cheating on her, but is a cold-blooded killer.
Sean added that: "The way it's set up is that the wedding is a set up for Ray, so Mel can win the day.
"On the wedding day, some events happen that may challenge her ability to win the day."
Tune in next week to find out Mel's fate...
Eastenders is on 8pm, Monday on BBC1
Get the latest updates, reviews and unmissable series to watch and more!
Thank you for signing up to Whattowatch. You will receive a verification email shortly.
There was a problem. Please refresh the page and try again.