Electric Boogaloo: The Wild, Untold Story of Cannon Films | Film review – A must see for all fans of B-movie cinema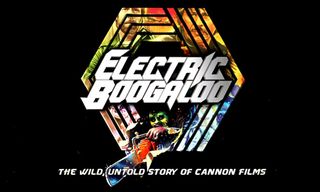 Anyone growing up watching films in the 1980s will probably remember the iconic Cannon logo that appeared in hundreds of films, but especially those starring Chuck Norris, Sly Stone and Jean-Claude Van Damme. But do you know anything about the two crazy guys behind the scenes – Menahem Golan and Yoram Globus?
Throughout the decade, Golan and Globus – aka the Go-Go Boys – churned out some outrageously schlocky fare that ended up on the shelves of VHS rental shops everywhere, including Sylvester Stallone's lame arm-wrestling flick Over The Top, the Lawrence of Arabia meets The Great Race rip-off Sahara with Brooke Shields, and the cut price Superman IV: The Quest for Peace, which featured a Chippendales dancer as the bad guy. They also introduced ninjas into pop culture and brought two pastel shades of breakdancing to the big screen – hence the title, Electric Boogaloo.
Your head will spin with the fast editing as Mark Hartley (Not Quite Hollywood) tries to cram in as many anecdotes and clips from Cannon's back catalogue, but strangely all of the interviewees, including Elliott Gould, Dolph Lundgren, Bo Derek and Sybil Danning, agree that the brash Israeli cousins loved film more than anything.
In documenting the madness with affectionate glee, Hartley has crafted a story of 1980s exploitation that's well worth seeking out. READ MORE HERE (opens in new tab)
Electric Boogaloo: The Wild Untold Story of Cannon Films is available to stream from Metrodome and BFI Player, and screens in selected UK cinemas, while the UK home entertainment release is scheduled for 13 July http://youtube.com/v/-_zCf73hF84
Get the latest updates, reviews and unmissable series to watch and more!
Thank you for signing up to Whattowatch. You will receive a verification email shortly.
There was a problem. Please refresh the page and try again.