Elisabeth Moss: 'Top of the Lake 2 is darker, deeper and more disturbing'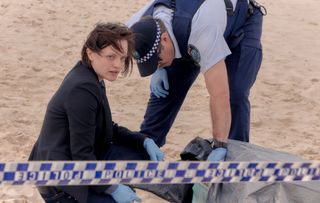 (Image credit: See-Saw Films (TOTL2) Holdings P)
Elisabeth Moss on returning to BBC2's eerie cop drama Top of the Lake, and working with Hollywood star Nicole Kidman and Game of Thrones' Gwendoline Christie
It's been four years since the thrilling first series of crime drama Top of the Lake, which saw tortured detective Robin Griffin (Elisabeth Moss) cracking a paedophile ring in New Zealand.
Now, as the drama returns to BBC2 for a second, six-part run, Robin is living in Sydney, where she's trying to rebuild her life and reconnect with her daughter Mary (Alice Englert), who she gave up for adoption 17 years ago.
However, when a suitcase containing the body of an unidentified Asian woman washes ashore at Bondi Beach, Robin soon becomes wrapped up in the city's dangerous underbelly of sex trafficking and prostitution as she tries to unravel the murder-mystery of 'China Girl'.
We caught up with Elisabeth, 34, to chat about reprising her Golden Globe-winning role in Jane Campion's dark drama and working with a new cast, including Hollywood's Nicole Kidman and Game of Thrones star Gwendoline Christie…
How was it returning to the character of Robin Griffin after four years? "You'd think there would be a certain ease returning to a character you've played before, but it's been so much more emotionally challenging for me this time. However, I did tell Jane Campion and her co-writer Gerard Lee that I wanted Robin's story to go in a much darker, deeper and more disturbing direction, otherwise what's the point in going back?"
Motherhood is a big theme this series; how does Robin get on with her daughter? "This second story is very much about female relationships and different types of parenting, and a lot of Robin's character stems from her choice to give her daughter away 17 years ago, so it's been a real gift to explore what happens when they meet.
"I think we've handled it sensitively because Robin doesn't feel like a parent and has to find her own way of being a mother. As someone who doesn't have a child, I felt that I could identify with Robin in the sense that Mary feels more like a sister or a friend than a daughter."
>>Find out 10 crucial things about Elisabeth Moss
Does it lead to a clash with Mary's adoptive mother Julia, played by Nicole Kidman? What was it like acting opposite her? "There is a sort of battle of the mothers that happens between Robin and Julia, and during filming, I definitely had a moment when I had to remind myself to be professional and not shout, 'Oh my God, I'm acting with Nicole Kidman!'
"Nicole was lovely, and so enthusiastic. She just wanted to do a great job, so when you have a big movie star who wants to challenge themselves like that, you're very grateful."
https://youtu.be/0ebH6h7zLqI
Robin also has a new policing partner, Miranda (Gwendoline Christie), who brings some humour to the show… "Top of the Lake might be dark and creepy, but it's also grossly hilarious at times, and Jane wrote the role of Miranda for Gwendoline. I knew Gwen would bring something unique, but she blew it out of the water.
"Miranda and Robin are like opposites, though – Miranda appears sensitive and passionate, but on the inside, she's strong and fierce, while Robin wants to be tough, but really she's soft and vulnerable. It's an interesting combination."
Robin, Mad Men's Peggy Olson and Offred in The Handmaid's Tale are all very different – how do you choose your roles? "The best writing provides complicated, interesting, strong female characters, and that's what I look for and what I gravitate towards.
"But Jane and Gerard's writing is also a classic example of expecting the audience to be intelligent; they don't dumb down anything. As a result, I think Top of the Lake has a tone and a mood that is unlike anything else."
Top of the Lake: China Girl premieres on BBC2 on Thursday, July 27 at 9pm. All six episodes are available on BBC iPlayer straight after the first episode screens
Get the latest updates, reviews and unmissable series to watch and more!
Senior Writer for TV Times, TV & Satellite Week, What's On TV and whattowatch.com
Rebecca has more than 20 years' experience in journalism and is now writing about all things telly-related for TV Times, TV&Satellite Week, What's On TV and whattowatch.com (opens in new tab).
She's interviewed all sorts of big-name stars, including Al Pacino, Ewan McGregor, Tom Hardy, Winona Ryder, Benedict Cumberbatch and more. She's also been known to step in front of the camera, dressing up as a 1920s flapper to star in ITV's Mr Selfridge and co-hosting ITV News at Ten with Mark Austin – all in the line of duty!
When she's not quizzing actors, directors and producers, you'll find her bingeing US dramas and anything horror/sci-fi/zombie-themed. But her greatest love will always be Game of Thrones… just don't mention the ending!
Thank you for signing up to Whattowatch. You will receive a verification email shortly.
There was a problem. Please refresh the page and try again.