10 Things You Need To Know About Top of the Lake star Elisabeth Moss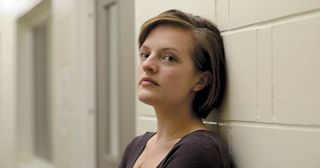 Find out more about one of TV's most in-demand actresses, currently starring in Channel 4's The Handmaid's Tale and soon to star in BBC2's Top of the Lake
With shows like Mad Men, The West Wing and this year's hit drama The Handmaid's Tale on her CV, Elisabeth Moss is one of the hottest actor on the planet at the minute.
She stars opposite Nicole Kidman in the second series of Top of the Lake (premieres BBC2, July 27), reprising her role as Sydney-based Detective Robin Griffin. So we thought we'd find out a little more about the golden Globe-winning American…
https://youtu.be/i0omr4uqi_8
1. Top of the Lake was supposed to be a one series show, but when New Zealand creator Jane Campion asked Moss to return for a second outing, she couldn't say no.
"Jane and I are like sisters," said the actor.
When they were both in Los Angeles for the Emmys, Moss found a note scribbled on a napkin and slipped under her hotel door: It said: 'Room No. 1209. TOTL 2? Love, Jane.' Moss still has the note.
2. Elisabeth Moss was raised a Scientologist and still practices the religion to this day.
"There's so much focus on empowerment and respecting yourself," she said of the controversial religion. "It's a better you, not necessarily changing who you are."
The star rarely discusses her beliefs in interviews, once saying: "I think if there was something that I didn't know and didn't understand, I would probably feel as opinionated. You know how you're opinionated about when someone breaks up? Celebrities break up and you just feel like you know what happened?"
3. Mad Men creator Matthew Weiner said the only two things you need to know about Elisabeth Moss is that she 'never gives a bad take and is a rubbish drinker'.
4. Moss's mother Linda is a professional jazz and blues harmonica player.
5. Her mother's family hail from Chicago and Moss supports the Chicago Cubs baseball team. "It's in the blood," she said.
6. She lives in New York, in an apartment on the Upper West Side, with her two cats, orange tabbies, Ethel and Lucy, whom she adopted as strays.
"I'm like an 82-year-old woman," she said. "I was in the shop when I was really sick the other day and I was dressed in god knows what, just terrible sweats and hat and jacket. I was sniffling, and I was rolling my cart around and buying Kleenex and cat food — the worst, most embarrassing stuff — and I was like, 'Oh my god, I literally have become an old lady on the Upper West Side. This is amazing!''
7. She likes to be called 'Lizzie'
8. Moss made her TV debut at the age of six when she was cast alongside Sandra Bullock in Lucky Chances.
The 1990 series was written by Jackie Collins and based on her best-selling novels Lucky and Chances.
9. Moss won a Golden Globe for her role in Top of the Lake.
But she has never won an Emmy, despite being nominated seven times – six times for Mad Men and once for the first series of Top of the Lake. Following a fine performance in this year's Handmaid's Tale it seems likely she will break that duck soon.
10. She studied ballet as a young girl.
"I was raised with a lot of classical music. I loved ballet. I was a bun head for 10 years."
Top of the Lake: China Girl begins later this month on BBC2. Elisabeth is also currently starring in Channel 4's The Handmaid's Tale on Sundays
Sean has been writing about all things telly for over 10 years and in that time he's been lucky enough to interview stars like Ian McKellen, Tom Hardy and Kate Winslet. His favourite shows are The Great British Bake-Off, People Just Do Nothing and Succession and in his spare time he enjoys drinking tea, doing crosswords and watching football.
Get the latest updates, reviews and unmissable series to watch and more!
Thank you for signing up to Whattowatch. You will receive a verification email shortly.
There was a problem. Please refresh the page and try again.