Emily Watson: 'Starring with Ian McKellen and Anthony Hopkins was like being picked to play for England!' (VIDEO)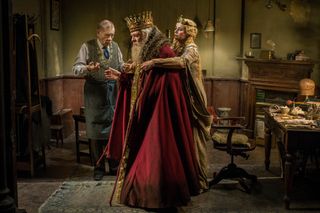 (Image credit: BBC/Playground Entertainment/Jos)
Emily Watson has said that working with with Anthony Hopkins and Ian McKellen in new period drama The Dresser (Saturday, BBC2, 9pm) was a privilege – the actor's equivalent of 'being picked to play for England'.
What's On TV chatted to Oscar-nominated Emily, about her role as Her Ladyship, the partner and co-star of actor-manager Sir, played by Sir Anthony, who has a breakdown as he prepares to go on stage.
"The cast list was rather appealing! When the first two names you read on the script are Anthony Hopkins and Ian McKellen you think, 'OK, I will play the chair, I don't mind, or I will be the table!' It was truly a very great privilege to be there, it was a little bit like being picked to play for England."
However, she admitted that meeting the two knights was rather daunting.
"It was pretty terrifying, however many times you have been round the block. The really scary bit was the first day of shooting because those scenes are really, really long and it was an awful lot to remember and to get your teeth into so there was the fear of getting it wrong. But they were delightful, you don't get that far and be that great without being great human beings as well. I think they were both quite nervous themselves, it was a very big deal for both of them."
Watch the full interview with Emily, above. "]
The Dresser screens on BBC2 on Saturday, October 31
Get the latest updates, reviews and unmissable series to watch and more!
Thank you for signing up to Whattowatch. You will receive a verification email shortly.
There was a problem. Please refresh the page and try again.