Emmerdale's Chris Bisson admits he's terrified of messing up in Sports Relief!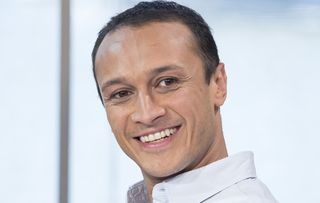 (Image credit: Ken McKay/ITV/REX/Shutterstock)
Emmerdale's Chris Bisson is taking part in Sports Relief under the watchful eye of Olympic rowing champ, Sir Steve Redgrave, and admits he's scared of messing up
It's oars at the ready as ITV go head to head with the BBC.
Emmerdale's Chris Bisson will be taking part in Celebrity Rowing for Sports Relief as an ITV team (which includes Corrie star Nicola Thorp, who also spoke to us) take on the BBC with five time gold medallist winner, Sir Steve Redgrave in charge of the training and Olympic gold medallists, James Cracknell and Helen Glover, part of the crew.
Here Chris tells TV Times how his body is coping with the gruelling build up to the challenge and why he's excited about training with Sir Steve Redgrave but terrified of messing up!....
TV Times talks to Emmerdale's Chris Bisson
TV Times: How's the training going?
Chris Bisson: "I am aching a bit. I can see where it's going to ache on the day. I've got a feel for it but I think it's going to be quite tough. It's making sure your timing is right. That's the scary bit. I've used a rowing machine in a gym but this is very different. If you're on a rowing machine and you get it wrong there's not really any consequence to it. But if you get this wrong it all kicks back and you get whacked."
TVT: Any pressure?
CB: "Yes! When everyone else is looking smooth and you're the one out of time you feel like an idiot but when you feel like you're doing your bit and you see the power going through the water, you think, 'Yeah I made it work'. We'll only row properly if we all do it at the same speed."
TVT: Are you enjoying it?
CB: "We've got Sir Steve Redgrave training us and two Olympic medallists in our boat. What could be better? Their timing is perfect. We're all desperately trying to do it as well as them. It's difficult but it's so inspiring as well."
TVT: What made you get involved?
CB:"I got an email and I was like, 'Wow Sport Relief, yes! What is it?' Before I even knew what the challenge was I knew I wanted to be involved. You get to see Steve Redgrave and you see these Olympic athletes in a different light. I thought, 'When am I ever realistically going to get in a rowing boat with people who actually know what they are doing and can tell me what to do?' It's exciting."
TVT: Were your family impressed?
CB: "They were really excited. I said I'm doing Sport Relief with these Olympic rowers and they were like, 'Wow'. I haven't got a selfie with Sir Steve Redgrave yet but I'll make sure I do on the day."
TVT:What do you like about Sport Relief?
CB: "Anyone can join in and that's the whole point. Everybody raises some money, or awareness or just gets fit. We're becoming a bit coach potatoish in this country, so encouraging people to get out and try different things is great."
TVT: Are you nervous?
CB: "I haven't really thought about the race day except that I'm a little bit terrified. I just need to be focused."
TVT: How do you rate your chances?
CB: "I'm probably exactly what my number suggests. Number four – right in the middle. I'm distinctly average. Trying hard."
TVT: Will your kids be there to cheer you on?
CB: "It's a school day and you can't take your kids out of school. You'd get fined! LEA on your back, black marks against your name, bad parents! My son's five so he will kind of understand. My daughter is two so she really won't get much of an idea but I'll tell them all about it later."
TVT: What's coming up for you on Emmerdale?
CB: "By March my story starts building again. At the moment everyone is loving Tip the dog. I get a lot of tweets about the dog. Then there's a story about Eliza, Jay's daughter with Megan. I can't say too much about it but obviously the baby has cerebral palsy. It's an important story for the show."
Celebrity Rowing is part of Sport Relief Night on BBC1 and BBC2 on Friday March 23.
To donate go to www.sportrelief.com
Main pic: Ken McKay/ITV/REX/Shutterstock
Get the latest updates, reviews and unmissable series to watch and more!
Thank you for signing up to Whattowatch. You will receive a verification email shortly.
There was a problem. Please refresh the page and try again.