Ex Emmerdale star Lisa Riley: 'I'm feeling the best I've felt in my whole life'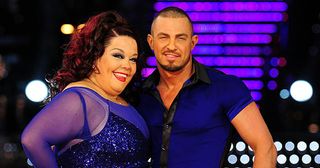 (Image credit: PA WIRE)
Lisa Riley talks to Soaplife about her fabulous new show and how she's changed her lifestyle and lost seven stone…
She was a big hit in Emmerdale and Strictly Come Dancing, now Lisa Riley returns to the dance floor for her latest project, as she explains to Soaplife magazine.
What are you working on now, Lisa? "I'm really excited because I'm going to be dancing with the delicious Robin Windsor again in a fabulous brand new dance show called Keep Dancing. It celebrates the world of Latin and ballroom dancing. Robin was my partner when I did Strictly Come Dancing in 2012, of course, and I love it when he and I get to make 'camp magic' together!"
When does the show open? "The end of August, so you've got plenty of time to get your tickets!"
We have to say you're looking fab-u-lous, darling! "Aw, thank you! I'm feeling the best I've felt in my whole life right now. I'm so proud of what I've achieved."
You've lost seven stone – how? "I've made a whole lifestyle change: I now eat much smaller portions, I haven't had an alcoholic drink in almost a year and I regularly do Zumba and Yoga. I would also like to say again that I haven't had a gastric band op! If one more person asks me about a gastric band then I swear I will be tempted to cut myself open and show people there's nothing there."
You always seemed so happy being a larger lady... "I was happy, but I needed to change for health reasons apart from anything else. The turning point came when my dad was hospital with suspected prostate cancer. Fortunately, he was fine but so many of the other men in his ward had Type 2 diabetes. I had a lightbulb moment and realised that I didn't want that to be me. The fear factor kicked in."
Find out where you can see Keep Dancing here
Get the What to Watch Newsletter
The latest updates, reviews and unmissable series to watch and more!