'It's very risky': Emmerdale star Ryan Hawley reveals details about Robert Sugden's Christmas Day episode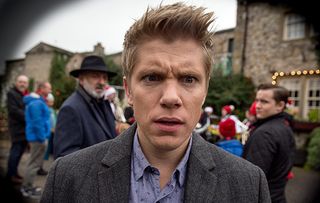 Spoiler alert!
Emmerdale actor Ryan Hawley has teased exciting details of the upcoming Christmas Day episode of the soap - and it looks to be an absolute corker.
The much-anticipated hour-long edition of the ITV show will see Ryan's character, Robert Sugden go on a bizarre journey through a series of false realities in order to reflect on his actions.
And opening up about the unusual episode - which has been billed as a Groundhog Day-inspired treat - Ryan has now revealed what viewers can expect.
"There's a lot of things that you read and feel a risk but it's not really our job to criticise or fight that – you just have to service that story as best you can," the star confessed.
"It's very risky – it's a Christmas Day episode for a start – there'll be a lot of people watching… It's very different to anything that we have ever done."
The 32-year-old then revealed that the episode will focus on Robert's relationship with his ex-boyfriend, Aaron Dingle (Danny Miller).
"There's three acts", he continued. "The first sees Robert [repeatedly] waking up and the day keeps resetting like Groundhog Day or The Edge Of Tomorrow.
"He keeps trying to get to the end but he can't and the end is basically Aaron and various things happen. It is quite funny but then he's at the next stage."
Ryan also teased: "There's a cameo from a much loved character which I hope people will love seeing."
Speaking about whether he was scared about being such a huge part of the Christmas special (no pressure!), he said: "We're both in it and it's about the relationship more than anything but it is odd and bizarre. But yeah, it's very flattering and nice to have a break from what we normally do."
He then added: "It is very different and obviously I am in it quite a lot so I was worried that people might hate it but we just hope that people enjoy it."
It seems it's not just Ryan who's worried about the shock episode, as even soap boss Ian MacLeod recently admitted he was 'nervous' about the viewers' reaction.
Well, we for one can't wait!
Emmerdale's Christmas Day episode airs at 5.50pm on ITV.
Get the latest updates, reviews and unmissable series to watch and more!
Thank you for signing up to Whattowatch. You will receive a verification email shortly.
There was a problem. Please refresh the page and try again.