Emmerdale stars tease horror Harriet 'murder' plot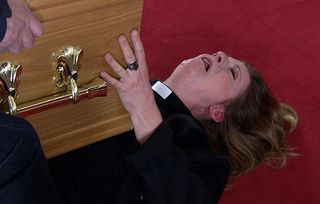 (Image credit: ITV)
Harriet is set to be crushed by a coffin... does evil Will kill the vicar next week?
Emmerdale stars Olvia Bromley, who plays Dawn, and Katherine Dow Blyton, aka Harriet, have teased the dramatic scenes that see Will crush the vicar with a coffin.
When Harriet found out Dawn's dodgy dad, Will, was still alive, she was utterly horrified. Pretty soon, she realised the drug lord – who she helped send down when she was an undercover cop – is her stalker.
But what Harriet still doesn't know is that Dawn is in cahoots with evil Will (Dean Andrews). And when Harriet asks Dawn if she's in touch with him, Dawn denies it next week!
"Dawn's deceit extends quite far," says Olivia Bromley, who plays her. "It would shatter Harriet because Dawn has been trying so hard to build this relationship up to get Lucas back. It could turn nasty."
Next week, it does just that. Already conflicted about how far her dad has taken his revenge campaign against Harriet, Dawn's appalled when she discovers he has murder in mind. During a clash with Will, Dawn hits her head…
When Harriet sees Dawn's been hurt, she snaps. Locking her inside the house, she storms off to confront Will in the church, where a bitter argument erupts.
"It's a really complicated relationship because Harriet did spend quite a few years pretending to be Will's partner and was in love with him," says Katherine, who plays the vicar.
As the scary saga turns physical, Will crushes Harriet with a coffin!
Is the vicar about to meet her maker – or will Dawn manage to break free and come to Harriet's rescue?
Emmerdale continues on ITV.
Get the latest updates, reviews and unmissable series to watch and more!
Thank you for signing up to Whattowatch. You will receive a verification email shortly.
There was a problem. Please refresh the page and try again.