Gareth Malone discovers his musical roots are deep on Who Do You Think You Are?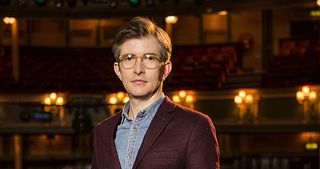 (Image credit: BBC/Wall To Wall Media Limited/S)
Gareth Malone (opens in new tab) reveals what happened when he mounted an investigation into his musical ancestry on Who Do You Think You Are? (opens in new tab) (BBC1, Thursday).
Luckily, Gareth's parents have enough information to get him started. On the wall of their home in Bournemouth, where Gareth grew up, is a photograph of his great great grandfather, Edmund Payne. Armed with the knowledge that Edmund was a comic actor in the 1900s, Gareth's first port of call is Her Majesty's Theatre in London. It is there, he discovers, that on June 27, 1911, Edmund took part in a Coronation Gala Performance for King George V – a mark of the high esteem in which he was held.
What's it like to know that you have followed in your great great grandfather footsteps?
"I'm tremendously proud of my great great grandfather performing for the king. I'm very lucky to have performed for royalty and I know how proud it made my family. I bet it was the same for Edmund."
How did you feel watching the silent film of Edmund?
"I feel so lucky that I have seen my great great grandfather from over 100 years ago. It feels like a gift for my grandfather, who never met his grandfather, and that's really special."
Excited with his early success, Gareth decides to trace another ancestor, his four times great grandfather Daniel Lowrey, who, according to family legend, was a theatre impresario in Dublin. Did you feel empathy for Daniel?
"He had this ambition to become a performer, but it's really hard. I worked in bars, sold ice creams, swept floors and picked up cigarette ends from the beach for a good 10 years until I got where I wanted to be, so I warmed to him for that."
Are you impressed with what Daniel achived?
"I think my family always had the wrong Dan in their minds. They've been thinking about Dan Jr, who was the manager and impresario, and it was his father who created the theatrical legacy and had all the talent."
Has music always been your passion?
"Music is so integral to my life when I wake up in the morning it's the first thing I think about after coffee. My parents met doing amateur dramatics, I think their eyes met across the stage, so I am the product of a musical liaison."
Did you always like performing music?
"When I was growing up, music was a very normal part of life. Me, my mum and dad sang songs together and if someone was around for Sunday lunch, I would always have to do a turn."
Get the What to Watch Newsletter
The latest updates, reviews and unmissable series to watch and more!