Gavin and Stacey star Joanna Page gives birth to 'beautiful baby boy'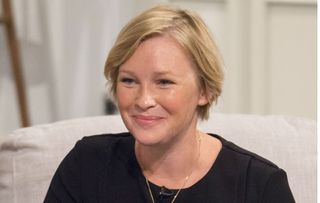 Joanna Page, who is best known for playing Stacey Shipman in hit BBC comedy Gavin and Stacey, announced the birth of her third child today.
Gavin and Stacey star Joanna Page has announced the birth of her third child.
The actress, who is also known for her role in heartwarming Christmas classic Love Actually, announced the happy news on Twitter today.
The new addition, named Noah Wilder Russell, was born on Tuesday weighing a healthy 7lb 3oz.
Noah is the 38-year-old Welsh star's third child with husband James Thornton, also an actor. They are already parents to three-year-old daughter Eva and son Kit, 20 months.
James also confirmed the happy news, writing on his Twitter page: 'Christmas has come early for us! Baby number 3 is here! Our beautiful baby Noah arrived Tues 13th 8.51am 7lbs3. He is amazing X'
Joanna and James announced the star's pregnancy via Twitter in June.
The actress joked that morning sickness has been a 'breeze' compared to looking after her two children, Eva and Kit.
She wrote: 'Some good news! We've got baby number 3 on the way!!!! ... Morning sickness is a breeze when you're already looking after a 3 and 1 year old!
Joanna and James – who has appeared in ITV soap Emmerdale – tied the knot in 2003 and have previously spoken about wanting to have a big family.
In an interview with Wales Online, Joanna said: "James is one of four, so to him, four children is the norm.
"For me, one is the norm, but I can see how people get addicted to having babies.
"I would like to keep going and try to pop out as many as possible – I only wish I'd started having them younger."
Joanna, from Swansea, has also admitted that she is quite strict when it comes to parenting.
She said she no longer eats her favourite sweet snacks because she doesn't want the children seeing her scoffing empty carbs.
And she admitted that she and James would switch off the TV or radio if explicit hip-hop songs came on.
"Having a child changes the way you are," she said.
"So many more things are important because they learn from what they watch.
"I know I sound like a really boring mum but every song you hear on the radio is about sex or not respecting yourself.
"There might be a song that I love to sing myself but I can't play it in front of Eva. She's brought out my responsible side."
Get the latest updates, reviews and unmissable series to watch and more!
Thank you for signing up to Whattowatch. You will receive a verification email shortly.
There was a problem. Please refresh the page and try again.