Gino D'Acampo: I was the only one naked when we went to a French nudist beach!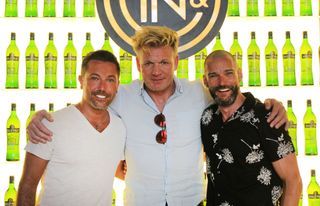 'What's the point of going on a nudist beach if you're not naked?'
Gino D'Acampo has revealed that he's the only one who gets his kit off when himself, Gordon Ramsay and Fred Sirieix hit a French nudist beach in their ITV series tonight!
In the second episode of Gordon, Gino and Fred: Road Trip, the intrepid trio are in France and suddenly find themselves on a famous nudist beach.
Gino is a firm believer you have to enter the spirit of things – in a later episode he wears a kilt when the boys go to Scotland – and that's why he took his clothes off on the beach.
"It's like when we went to France on a nudist beach, I was the only one who was naked but if you're going to go on a nudist beach, you have to be naked and do what everyone else does.
"We were supposed to meet there and I was 15 minutes late and I came on the beach completely naked but Fred and Gordon were the only people dressed on the nudist beach. What's the point of going on a nudist beach if you're not naked?"
Meanwhile, Gino reveals who he thinks is the best driver.
"The best driver is definitely Fred, because Gordon gets distracted and then he gets very boyish. He goes fast, he goes around the roundabout and doesn't care about anyone else.
"Me, I am the same. I get distracted very easily plus, nothing bothers me, so I'm like, 'Yes we can fit through there, we can do this, we can do that.' I smashed the campervan a couple of times, but apart from that everything is alright. Fred is definitely the sensible one. He's too sensible. It drives you nuts."
In tonight's episode, First Dates' Fred is front of house as they're in France, where their challenge is to deliver delicious platters at the first Oyster Festival in Arcachon.
Gino D'Acampo, Fred and Gordon continue their adventure on ITV this evening at 9pm.
Get the latest updates, reviews and unmissable series to watch and more!
Thank you for signing up to Whattowatch. You will receive a verification email shortly.
There was a problem. Please refresh the page and try again.