Gordon Ramsay: New show with Gino and Fred 'tested nerves!'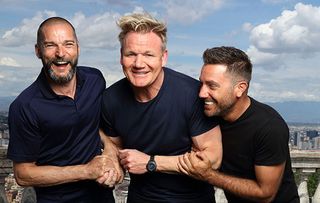 Gordon Ramsay reveals why filming Gordon, Gino & Fred: Road Trip - which starts tonight on ITV at 9pm - with Gino D'Acampo and Fred Sirieix was both frantic and fun…
Last December, fiery foodies Gordon Ramsay, Gino D'Acampo and Fred Sirieix joined forces to serve up a special festive feast for deserving members of the public and emergency services in ITV's Gordon, Gino and Fred's Great Christmas Roast.
The experience was such good fun that the unlikely trio have decided to reunite for a new three-part series. But this time Gordon, Gino, Fred - and their egos! – will be crammed into a camper van for a very personal European road trip that takes us on a tour of of each of their beloved homelands.
The first pitstop is Italy and the pals must work together to create a wedding feast for Gino's friends Marco and Clio. Beforehand, Gino makes them all go for pizza in his home town of Naples. But, when they take to mopeds because of the traffic, Gordon and Fred soon loose sight of their guide, Gino!
This prompts Gordon to fume in episode one: "I'm starting to understand the madness of Gino D'Acampo growing up in Napoli. My biggest regret is he left Napoli."
Next week they're in Fred's cherished France attempting to deliver an Oyster festival, and in the final episode they're off to Gordon's native Scotland to compete in the Highland Games.
Here Gordon Ramsay, 51, tells us more about their new ITV show Gordon, Gino and Fred: Road Trip...
Why do you like working with Gino and Fred?
Gordon Ramsay: "I rarely come across three guys who bond the way we have, especially in this industry. In the Christmas special there was a moment when we were suspended in a cave and, even though we're challenging each other, we had each other's backs."
What can you reveal about this week's Italian adventure?
GR: "We're helping Gino's best friends celebrate the renewal of their wedding vows. Gino and I are cooking, and Fred, the best maître d in the business, looks after front of house. There was beautiful local octopus and pig. It was on a beach and we had a power cut! I stay calm in those situations – Fred was all over the place and Gino was panicking."
Is Gino a good tour guide?
GR: "I'm starting to understand the madness of Gino D'Acampo growing up in Napoli. It was a bit of a culture shock. In Napoli, Gino just disappeared when we were following him on Vespas! It was absolute bedlam. He also took us to his stunning chateau in the depths of Sardinia. He produces his own wine called Gino Vino!"
Who's the better cook, you or Gino?
GR: "Gino thinks he's a great chef, but I tell him 'No, you're wrong. You're a great cook – I'm the chef!'"
Did you enjoy the Scottish leg of the trip?
GR: "The Italian cuisine is very simple, focusing on the ingredients. Fred takes us to France, and it's very laid back. But I think the best food comes from Scotland – hand-dived scallops, amazing beef and incredible whisky. We wore kilts and entered The Highland Games!"
You take turns driving. Who's the best driver?
GR: "Gino has the attention span of a four-year-old. He lost half the bumper and actually banked the van when he was reversing – it was suspended like a seesaw! Fred is so rigid and stubborn. My driving is exemplary. It's an amazing trip but we pushed each other to the limits and tested our nerves!"
Gordon, Gino and Fred: Road Trip, Thursday 11th October, 9pm, ITV.
Get the latest updates, reviews and unmissable series to watch and more!
Thank you for signing up to Whattowatch. You will receive a verification email shortly.
There was a problem. Please refresh the page and try again.