David Tennant: Good Omens is bonkers! It's a buddy movie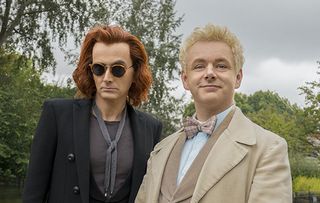 (Image credit: Amazon / BBC Christopher Raphael)
David Tennant and Michael Sheen reveal all about battling to stop the apocalypse in Amazon's fantasy drama Good Omens
David Tennant and Michael Sheen are teaming up to save the world in Amazon Prime Video's new comic fantasy Good Omens.
The star-studded six-part series, based on the novel by Neil Gaiman and the late Terry Pratchett, centres on playboy demon Crowley, played by David , and prissy angel Aziraphale, played by Michael . The pair should be mortal enemies, but since the dawn of the time, they have forged a quirky friendship and now they have to unite to find the Antichrist - an unwitting 11-year-old boy - and prevent Armageddon.
Here, David Tennant and Michael Sheen tell TV & Satellite Week about Good Omens…
TV & Satellite Week: How would you sum up Good Omens?
Michael Sheen: "I read the book at drama school and loved it. It's a brilliantly fantastical world with a crazy epic scale but at its heart, it's just about a simple, lovely relationship between an angel and a demon. David Tennant: "It's bonkers. The apocalyptic and the mundane meet in this extraordinary way."
TVSW: Tell us about your characters…
DT: "Crowley is rather louche and enjoys life. He doesn't lack self-confidence but there's someone appealing under the snakeskin. But neither of them is as angelic or demonic as they claim to be, they are terribly human." MS: "There's something a little bit holier-than-thou about Aziraphale but the edges get knocked off him. Aziraphale becomes just as ready to bend the rules."
TVSW: How do they work together on their mission to stop the apocalypse?
DT: "It's a buddy movie. They are Yin and Yang, they complete and need each other. Because they've both been on Earth for thousands of years they have met in the middle and have become one another's touchstone through the ages. Now they have this common goal of averting the apocalypse because they rather like the world." MS: "Yes, they complement and help each other perfectly. Aziraphale has been around since the Garden of Eden and has fallen in love with humanity and maybe he is a little bit in love with Crowley too. Or maybe that's just me and David!"
TVSW: The cast is incredible, what were they like to work with?
MS: "Oh they were all great company and had done all kinds of amazing things. So to just sit in my trailer with Miranda Richardson, Jack Whitehall, Anna Maxwell Martin and Jon Hamm drinking hot chocolate and watching old films was amazing."
TVSW: Aziraphale and Crowley drive around in a vintage Bentley, how have you found that?
DT: "Driving it gives me the heebie-jeebies because people keep telling me it's insured for nearly a million quid. So if the stuntman can drive the car I just let him. I didn't want the responsibility." MS: "I don't know what's more nerve-wracking, driving a car like that or being in it when someone else is driving, because you really threw it around the place with great gusto David!"
Good Omens is available on Amazon Prime Video from Friday 31 May
Get the What to Watch Newsletter
The latest updates, reviews and unmissable series to watch and more!
Caren has been a journalist specializing in TV for almost two decades and is a Senior Features Writer for TV Times, TV & Satellite Week and What's On TV magazines and she also writes for What to Watch.
Over the years, she has spent many a day in a muddy field or an on-set catering bus chatting to numerous stars on location including the likes of Olivia Colman, David Tennant, Suranne Jones, Jamie Dornan, Dame Judi Dench and Sir Derek Jacobi as well as Hollywood actors such as Glenn Close and Kiefer Sutherland.
Caren will happily sit down and watch any kind of telly (well, maybe not sci-fi!), but she particularly loves period dramas like Call the Midwife, Downton Abbey and The Crown and she's also a big fan of juicy crime thrillers from Line of Duty to Poirot.
In her spare time, Caren enjoys going to the cinema and theatre or curling up with a good book.