Goodness Gracious Me cast: 'We never set out to be controversial!' (VIDEO)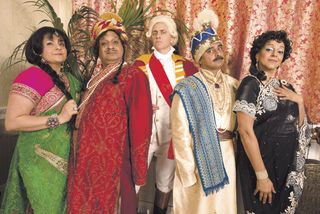 (Image credit: BBC/Des Willie)
The cast of classic sketch show Goodness Gracious Me have insisted they never intended to cause controversy when the comedy first aired in 1998.
Sanjeev Bhaskar, Meera Syal, Nina Wadia and Kulvinder Ghir have been reunited for a special one-off episode of Goodness Gracious Me, showing on BBC2 on Tuesday night, as part of the BBC's India Season.
The show became known for its sketches involving characters such as The Kapoors (pronounced Coopers), which viewed the British from an Indian perspective, while others, such as The Competitive Mothers, poked fun at Indian stereotypes.
"We never set out to be controversial," said Nina, with Kulvinder adding: "When you grow up here you have to be sensitive to the issues that you're dealing with and you have to not be ignorant of what's around and of what's happening. As performers and creators, we have a license to push the barriers a little bit further. I think this programme can do that, it does do that and it should do that. But, at the same time, there's no way we're trying to point a finger at a particular culture or a particular individual and that's the fun of doing good humour."
When asked if they thought there was still some way to go before there was real ethnic diversity on British television, Sanjeev replied: "Yeah, I think there is but also the discussions, particularly over the last couple of years, are a step in the right direction - no one could ever expect it to change overnight. But the conversations are being had now and that's progress!"
The cast also talked about some of the sketches featured in the special including a spoof of Brownton Abbey. "]
Goodness Gracious Me: India Special screens on Tuesday August 25 at 10pm on BBC2.
Get the latest updates, reviews and unmissable series to watch and more!
Thank you for signing up to Whattowatch. You will receive a verification email shortly.
There was a problem. Please refresh the page and try again.