Grantchester's Robson Green: 'Geordie and Sidney are a love story!' (VIDEO)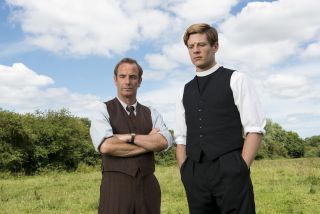 (Image credit: Patrick Redmond +353872600976)
Robson Green reckons the 'love story' between Grantchester's two main characters is what made the first series such a hit.
The Fifties period drama, which centres on crime-fighting vicar Sidney Chambers (James Norton) and his detective sidekick DI Geordie Keating (Robson), returns to ITV next week for its second series next week.
"Who'd have thought a very calm, compelling, charismatic member of the clergy could team up with a detective and make that relationship incredibly popular," Robson told whatsontv.co.uk. "People cared about Sidney and Geordie and wanted to follow them. Irrespective of whether they were a vicar or a detective – they could have been doctors or lawyers – it's the way they relate to one another. It's a love story."
He added: "I think the reason why they're this endearing couple is because they're this unlikely partnership but they just get on; there's a real fondness there. But I think a lot of that is to do with the fact that I love James as a friend - we get on off-set and I think that manifests itself in front of the camera."
Neil Morrissey (Waterloo Road) joins the cast this series as Harding Redmond, a desperate father, who sends shockwaves through the community of Grantchester when he accuses vicar Sidney of sexually assaulting his 15-year-old daughter. "Geordie and Sidney are inseparable and they trust one another implicitly," said Robson. "So when Sidney is accused of assaulting a 15-year-old girl, Geordie doesn't believe it for one second."
But, as the story progresses, Harding starts causing problems for these once firm friends…
"The endearing and unique friendship that Geordie and Sidney have is starting to fracture and Neil Morrissey's character helps that," revealed Robson. "Geordie and Sidney have opposing views about something quite serious because we've got to remind ourselves that, in 1955, the consequence of wilful murder was to be hung. Geordie and Sidney are poles apart in terms of what their view of justice is – but both arguments are valid and viewers might be torn."
Strike Back star Robson has travelled all over the world as an actor and as host of his Extreme Fishing documentaries – but could he live in a place like Grantchester?
"The characters in Grantchester are real and there's a definite sense of community," said Robson. "If it wasn't for the bodycount, I'd move to Grantchester tomorrow!"
Grantchester begins on Wednesday March 2 at 9pm on ITV.
Get the latest updates, reviews and unmissable series to watch and more!
Thank you for signing up to Whattowatch. You will receive a verification email shortly.
There was a problem. Please refresh the page and try again.