Gregg Wallace and John Torode: 10 things MasterChef has taught us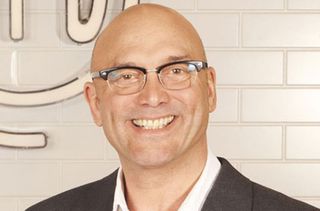 (Image credit: Photograph: BBC/Shine TV)
MasterChef judges John Torode and Gregg Wallace tell TV Times what they've learned from their 11 years presenting the mother of all TV cookery contests.
GREGG
1 Slow and steady wins the race
It's not the best cook at the beginning that wins the competition – it's the one that listens and learns the most as they go along. Our 2012 champion Shelina Permalloo had weak presentation to begin with, but she gradually nailed her Mauritian-style food and sailed on to win.
2 Don't mix business and pleasure
I can't tell you the number of times I've booked to go out for dinner with friends after filming and regretted it. As you can imagine, after tasting contestants' food all day, all I really want at the end of the day is a glass of water and a boiled sweet. So I try not to book dinner dates, but if I really must, I order a salad. Trouble is, I know so many chefs thanks to MasterChef that they send out extra dishes, making an awkward situation even more uncomfortable.
3 Odd is good
Just because ingredients sound odd together, it's wrong to write them off. I've often been guilty of sneering at someone's strange-sounding dish, only to taste it and discover it's delicious. Remember 2011 winner Tim Anderson?
John and I often doubted his inventive combinations would work – cola-braised pork and mocha steak for a start! But he surprised us. It was a good lesson in keeping open-minded.
4 MasterChef has superstar appeal
Every year, when I see the calibre of professional chefs willingly taking part in the show, I'm truly humbled. It's taught me how respected and highly regarded MasterChef is in the food world. It says a lot for the integrity of the show: it's not about gimmicks, it's about people who love cooking and want to show off food for all the right reasons.
That's why we get access to the best restaurants in the world, and have superstar chefs like Daniel Humm, of Eleven Madison Park in New York, presiding over this year's finalists' Chef's Table. No pressure, people!
5 Taste changes
I've learned that palates change over time. I don't have the sweet tooth I did back in the early days – no, really! I still enjoy a good dessert, but don't like food too heavy and laced with cream and butter like I once did.
As I've become healthier with my personal diet, my palate has changed and I now enjoy eating the lighter food cooked by contestants. I've also learned how to not put on weight during filming – hit the gym six days a week!
JOHN
6 Food isn't frightening any more
I've learned the world has become a much smaller place since MasterChef first started. If you look at the variety of food now cooked on it compared to 12 years ago, it's quite astonishing.
Series one winner Thomasina Miers seemed so daring back in 2005 with her Mexican food, but then fusion began creeping in each series, and now it's not uncommon to see the same person cook brilliant dishes from Thailand, Spain and France. Contestants experiment. As do viewers at home.
A decade ago not many people had coriander or chorizo in their fridge; they do now. Food has evolved incredibly in 12 series.
7 Gently does it
We quickly learned that after the terrifying experience of walking through the MasterChef doors, it didn't pay to hit the contestants with a tricky first challenge. Facing the bald fella and me is daunting enough, they didn't need additional pressure.
So we now get them to cook their 'Calling Card Dish' first, food they're used to making, so they can build up confidence. They perform much better and we benefit too – it means we have less muck to taste!
8 Feel the love
When someone enters the kitchen and uses lots of cheffy terms like 'sauté', 'flambé' or 'sous vide', I've learned they're probably not going to last very long.
They're thinking more about techniques than about what gets you through to the next round, which is a true love of food. Feeding people – not trying to show off – is true love and, as judges, we can taste that love. Fancy words and methods don't necessarily impress.
9 Classics rule
Regardless of how inventive a cook is, one thing that holds firm is a classic. You shouldn't change a Chinese duck that's been cooked a certain way for 2000 years – the reason it's been cooked that way that long is because it works! A poached pear is a thing of beauty - it works. An apple pie, done with finesse and a wonderful ice cream – it works. I've learned contestants should stay true to certain classics. Stay true to the country and understand the culture it comes from and it's going to be a far better dish.
10 Rustic is wrong
There's a difference between cooking at home and cooking on MasterChef. It's fine to use a ladle to put your chilli or rice in a mound on the plate at home, but not in our kitchen. We want presentation. I've learned that anyone who says, 'it's got a rustic crunch' usually means it hasn't been cooked properly or with enough care.
We want care – and that goes for contestants, too. You can tell what sort of dishes people will create by their appearance – whether it's going to be smart, artistic or wacky. If I see rustic, unshaven and untidy in anyone or in food I know it's going to be wrong!
MasterChef returns to BBC1 on Wednesday, March 23
Thank you for signing up to Whattowatch. You will receive a verification email shortly.
There was a problem. Please refresh the page and try again.