Happy Days star Al Molinaro dies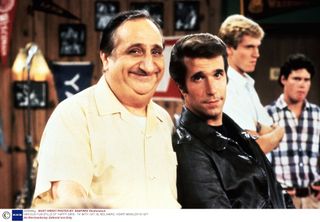 American actor Al Molinaro, best known for his role as "Big Al" Devecchio in the 197Os sitcom Happy Days, has died at the age of 96.
He passed away in a California hospital following complications from a gallstone infection.
The 1950s-set comedy centred around teenager Richie Cunningham (Ron Howard), his friends – which included The Fonz (Henry Winkler) and his family. Al starred as the owner of Arnold's Drive-In where the main characters would gather.
It ran for ten years between 1974 and 1984, but Al didn't join the show until the third season in 1976. He was brought in when Pat Morita played Arnold in the first two seasons, left the show to pursue other projects. Morita later went on to play Mr Miyagi in the Karate Kid movies.
Born Umberto Francesca Molinaro in Winsconsin, USA, Al also spent five years playing police officer Murray Greshler in The Odd Couple, a sitcom based on Neil Simon's play and starring Tony Randall and Jack Klugman in the lead roles.
The actor also had guest roles in other sitcoms, including Bewitched and Get Smart, and when he left Happy Days in 1982, he was asked to reprise his role as "Big Al" in a spin-off comedy, Joanie Loves Chachi.
In the 1980s, Al and fellow Happy Days actor Anson Williams sets up a chain of diners called Big Al's, but the business didn't last.
He retired from acting in 1992 at the age of 73, but continued to appear in commercials and featured in the pop video for Weezer's 1994 hit Buddy Holly.
Talking about his acting career, Molinaro said: "I spent twenty years here before I got anything going, and from that I got lucky. It takes a lot of luck in show business. You've just got to be lucky and in the right place at the right time."
Get the latest updates, reviews and unmissable series to watch and more!
Thank you for signing up to Whattowatch. You will receive a verification email shortly.
There was a problem. Please refresh the page and try again.