Harry Hill says his new series, Alien Fun Capsule, is 'like son of TV Burp'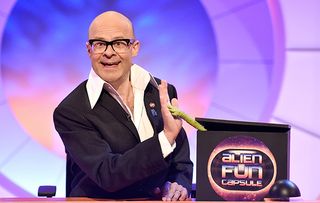 (Image credit: ITV / CPL Productions)
Harry Hill is back on ITV with Alien Fun Capsule, an entertainment show that aims to take the mickey out of the celebrities on the panel through their own TV work!
From "Fruit Fancies" and "Shark-Infested Custard" to his biggest hit TV Burp, Harry Hill just doesn't do ordinary programme titles. And his latest offering, Harry Hill's Alien Fun Capsule, is no exception. The premise, as the opening titles explain, is that Harry must "collect the funniest stuff he can find to prove that, in the event of an alien invasion, humans are quite good fun to hang out with".
Harry, is your new show a natural successor to TV Burp? "Yes, it's almost like son of TV Burp in a way. It's a celebrity panel show but we're showing the clips of TV programmes and we are taking the mickey out of to the people who were in them."
Who should we look out for on the show? "Part of the idea of was to get people on who you wouldn't necessarily see together – for instance, Ainsley Harriot and Kathy Burke. We had Des O'Connor on, and found an old clip of him from the 1970s singing about UFOs. And we found a clip from an old holiday show where Judith Chalmers is leaving the beach on a pedalo – so we had her arriving on one!"
Is it a relief not to have to watch so much telly now TV Burp is finished? "Yes, and I didn't want to get into that thing of having to watch TV all week for this show. On TV Burp, the perfect clip for us was something made in a hurry that takes itself very seriously – which is essentially EastEnders! Corrie wasn't great, because it was already quite camp and funny. But this is very directed – so if we have Emmerdale's Kelvin Fletcher on, we only need to find funny clips from the bits of Emmerdale he's in."
Now you can watch TV purely for enjoyment again, what are your favourite shows? "I don't really have control of the TV at home. I live in a commune with a lot of women [he is married with three daughters], so most of the time we're watching things like Say Yes to the Dress, First Dates, and – there's another one, something about brides – Don't Tell The Bride!"
Is it hard to watch telly without thinking what would have worked well on TV Burp? "Don't Tell the Bride would have been great for TV Burp. The bride's in tears, saying about the groom's wedding plans: 'Oh no, what's he done?" Er, haven't you ever watched the show?"
Harry Hill's Alien Fun Capsule starts on ITV, Thursday, March 2, 8.30pm
Get the latest updates, reviews and unmissable series to watch and more!
Thank you for signing up to Whattowatch. You will receive a verification email shortly.
There was a problem. Please refresh the page and try again.