Holby City DOCTOR DEATH exit: 'Cameron had to have his comeuppance'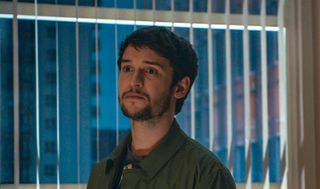 (Image credit: BBC)
It's finally happened, folks! Holby City's murdering medic Cameron Dunn has finally been arrested for his crimes. Here, actor Nic Jackman tells us more about the demise of Dr Death…
After months of scheming, manipulation and cold-blooded murder, the net finally closed in on Dr Cameron Dunn in Tuesday night's episode of Holby City, as he got his much-needed comeuppance.
Killer Cameron had gone undetected for over a year - but the recent death of patient Bobby Edwards and the kidnap of Chloe Godard's mum Ange sealed his fate.
With the entire hospital seemingly now suspicious of him, the drama culminated in Cameron barricading himself and Nicky - who we now know is carrying his unborn child - into Max's office where he proceeded to tell her EVERYTHING about his past crimes. And we mean EVERYTHING!
The episode reached its nail-biting climax with Cameron being arrested and taken away by the police. It was certainly a long time coming - but it was a fitting ending for a great character.
We chatted to Nic Jackman all about his dramatic Holby City exit - and whether this really IS the last we've seen of dastardly Dr Dunn…
Do you think it's right that Cameron has finally been arrested for his crimes?
"Yes, I do think it's right for us to see Cameron get his comeuppance. He couldn't get away with it forever, surely. I suspect the audience is relieved to see it happen because it's been going on for a while - and I think it was Holby's duty to show he hasn't got away with things."
If we go right back to September 2019, when Cameron murdered Chloe's ex Evan, did you know he'd go on to become a full-on serial killer?
"Yes, I always knew the storyline would go this way, even before the Evan thing. I didn't know how it would entirely pan out, but I knew it was gonna take Cameron on a dark path and I was very willing to take that route. I remember when I was first told about the Evan stuff, I was like: ''Whoa!' because it was so unlike anything he'd done before. However, in recent months, when Cameron's killed someone, viewers probably go: 'Oh, Cameron's killed again' like it's no surprise."
Are you pleased with your final episodes?
"Yeah. When I talked with producers about Cameron's comeuppance and what was gonna happen it was kind of what I wanted, so I was happy with that. I knew the audience would be in for a real treat."
What have you most enjoyed about playing Cameron?
"He's so far away from who I am. I always loved how he'd say something to someone then do the complete opposite behind their back or manipulate them. It's just really rich, rewarding stuff and good to play as an actor. And I've really clung on to that. And the fact that people really love to hate him. To be able to create a character and play a character that does that and gets that response from people is a good feeling."
Is this really the last we've seen of Cameron? Will he be able to strike again in the future?
"Ooh, that's a very good question. Who knows? Whatever happens, he's been a joy to play."
Do you want any future characters you play to be like Cameron?
"As an actor, you always look to play different characters. I've been reading scripts for other things recently and the character's are very different to Cameron, so it's been really nice to be looking at someone who's different from who he is. That said, I do love Cameron, so I could definitely see myself playing a character like him again, for sure."
Holby City continues Tuesdays at 8pm on BBC1
Get the latest updates, reviews and unmissable series to watch and more!
Thank you for signing up to Whattowatch. You will receive a verification email shortly.
There was a problem. Please refresh the page and try again.