Holby City's Guy Henry reveals all about the DEADLY Hanssen v Gaskell showdown!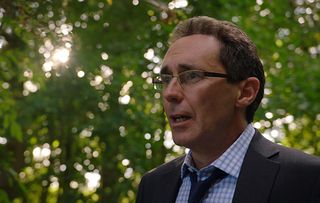 (Image credit: BBC)
It looks like the net is finally closing in on Professor Gaskell and his risky stem cell trial next week, leading to a dramatic showdown between him and Holby bigwig Henrik Hanssen. Guy Henry reveals all to us…
Holby City star Guy Henry reveals what happens when Hanssen finally confronts Professor Gaskell...
After learning Professor Gaskell (Paul McGann) has been operating on patients – including her – using faulty implants, surgeon Jac Naylor (Rosie Marcel) wants hers removed from her spine. What does Hanssen make of Jac's demands?
"I think Hanssen can see Jac's determination and he can understand her point of view. But he feels that his old friend, Gaskell, would have done his best for his other old friend, Jac. So I suppose he sides with Gaskell when, frankly, he perhaps shouldn't."
Why is Hanssen so keen to give Gaskell and his risky stem cell trial his full support?
"Hanssen doesn't want to think ill of Gaskell, a man he's known, admired and loved for so many years. He's blinded by his affection for Gaskell and refuses to believe he's not to be trusted."
Hanssen and Holby's other senior staff soon fear, though, that Gaskell's lost the plot and break into his wet lab, where Hanssen is exposed to danger. What can you tell us?
"Hanssen is accidentally contaminated by a poisonous substance Gaskell has cooked up for his patients. Hanssen starts hallucinating and is in a haze of confusion, fear and doubt. But, at last, he allows himself to believe Gaskell has done wrong and knows he can't let him get away with it."
Hanssen tracks Gaskell down to a nearby lake where an intense stand-off between the pair ensues. What happens?
"Hanssen confronts Gaskell over his crimes and that's when he realises his friend is truly evil. Viewers will know Gaskell pulled Hanssen out of a lake when they were students – but will Hanssen now save Gaskell?"
What was it like filming those scenes by the lake?
"Practically speaking, I was OK, but I don't like the water. I'm not very good in water, so poor old Paul had to do all the stuff in the water. Luckily for him, he had a warm suit on underneath his suit in the water, with me shouting at him from the safety of a rather duck-s***-encrusted jetty! I was surrounded by duck poo, which I'm sure helped with the horror and revulsion of the occasion!"
Have you enjoyed working with Paul on this storyline?
"Paul and I loved filming these scenes. We were at drama school together from 1979 to 1981, so I've known and adored Paul for nearly 40 years. There's that shared connection, friendship and affection, which meant that we really didn't have to act at all. It's what Clark Gable used to write on his scripts: NAR – No Acting Required! My scenes with him were so enriched by that old friendship so, you could say, it's life mirroring art. Though I can confirm Paul's nothing like Gaskell!"
Holby City continues Tuesdays at 8pm on BBC1.
Get the latest updates, reviews and unmissable series to watch and more!
Thank you for signing up to Whattowatch. You will receive a verification email shortly.
There was a problem. Please refresh the page and try again.