Holby City star Hugh Quarshie: 'I could perform an operation... but I'd go to jail!'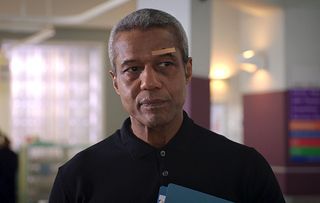 (Image credit: BBC)
Respected surgeon Ric Griffin gets a blast from the past when a familiar face returns to Holby this week. Hugh Quarshie reveals more…
Hugh Quarshie on Ric's night of passion and how he feels about being Holby City's resident action man...
Ric gets a shock when he meets the new locum on AAU… it's Lola Griffin, Ric's ex-wife! Ric claims he hasn't seen Lola (Doctor Who star Sharon D Clarke) in a while – but that's not quite true is it?
"No. It turns out Ric and Lola spent the previous night together and it's clear something happened between them. There's a suggestion that the reunion has rekindled something of a desire in Ric. But there's a little twist in Lola's story."
Lola senses Ric's stuck in a 'middle-aged' rut but she reassures him he's still a catch! Do you like that Ric's still seen as a bit of a sex symbol?
"There are lots of references to Ric's age to demonstrate that, even in his advancing years, he's still an 'action hero'. These days, they are dressing me more and more to look like the Milk Tray man!"
Holby celebrates its 20th anniversary this year and you're the show's longest-serving cast member. How does it feel looking back to when it all started?
"I never expected to be here this long – I thought I'd be here two or three year's max! I'm not sure I'm going to be able to match Derek Thomson's record in Casualty – is it 31 years!? But I would not have stayed here so long if this were not a good place to work. I think it's massively reassuring to feel you're respected and listened to. They do sometimes spring some plot twists on me, which I'm not too happy with, and I'm never too happy wearing scrubs but that comes with the job. It's pleasing to feel I've lasted this long in a job and that I've helped set the tone."
You say you're never too happy wearing scrubs. Do the surgical scenes get any easier?
"We've got a fantastic prosthetics department; it's amazing what they do. It does make our job a little easier as it does help us know what we're doing. I know where the major organs are in the body now more or less. I get a bit confused between the pancreas and the gall bladder but I know roughly what they are supposed to do. It's been an education but mostly, working on this show, it's been humbling knowing what real doctors have to do. If you're going to ask me if I could perform an operation after all these years the answer is yes, I could! But the patient would certainly die and I would certainly be sued and end up in jail!
What do you still enjoy about playing Ric in Holby City?
"The interesting and appealing thing for me is there has been some development of the character in recent years and Ric has been shown to have his flaws; like the way he reacted to Sacha's depression last year by telling him to 'man up'. That's good in the sense that it demonstrates the frailty and failings of our characters who just happen to be top surgeons."
And, after 20 years, what do you think it is that fans love about Holby City?
"What our core audience wants is the comforting stories and the relationship between the characters; that seems to be our staple. It works best when the show intertwines their skills as surgeons with the emotional and psychological baggage that they carry as human beings."
Holby City continues on Tuesdays at 8pm on BBC1.
Get the latest updates, reviews and unmissable series to watch and more!
Thank you for signing up to Whattowatch. You will receive a verification email shortly.
There was a problem. Please refresh the page and try again.