Holby City's Lee Mead on 10 years in showbiz: 'I'm really happy at Holby and Lofty's a great part!'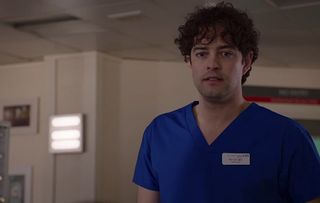 Best known these days as Holby City's kind-hearted nurse Ben 'Lofty' Chiltern, Lee Mead first came to the public's attention 10 years ago when he took part in the BBC1 talent search Any Dream Will Do - and won! Here, Lee talks about his career in showbiz and reveals what's next for Lofty...
Lee Mead on playing Holby City's lovable nurse Lofty, being 10 years in business and what the future holds…
It's been 10 years since you won Any Dream Will Do, the TV talent search for someone to play Joseph in Joseph and the Amazing Technicolour Dreamcoat. Can you believe it?
"Not really, no! I'm pleased I'm still around doing it to be honest. Last summer, I was talking to family and friends and I said: 'Do you realise it's 10 years next year since I won that show' and they said: 'You should do something like a tour or a album'. I wasn't going to do anything at first but then I thought, 10 years on to have the career I've had, I thought it would be nice to have a celebration of that, to make an album and take it on tour. So that's what I'm doing."
Do you have fond memories of being on Any Dream Will Do?
"Yeah, really special memories. I remember when we got down to final three – myself, Lewis Bradley and Keith Jack – and we all went to film some stuff at Andrew Lloyd Webber's place in Majorca. Being on the balcony in the sun and then having him play at the piano, he's a legend. Obviously the big thing for me after winning was then doing the show in London. Doing the TV show each week was fun but singing in the West End and actually getting to play the role, getting out there and doing it was the best year and a half ever."
Lee playing Joseph in 2007
Your anniversary tour kicks off on Saturday February 24 at the Corn Exchange, Newbury. Can you give us some teasers of what fans can expect from the show?
"It's stories about the last 10 years of my life really because a lot's happened, both in my career and personally, and it's reflecting that time. I played the lead in the UK tour of Chitty Chitty Bang Bang the musical for five months, so I've got a song from that. There's also songs from previous albums and past shows that I've done like Phantom of the Opera, Miss Saigon and, of course, Joseph."
Will the Amazing Technicolour Dreamcoat be putting in an appearance on the tour?
"It will, yes! For the first time in 10 years, I'm going to be putting it back on and hoping it's going to fit. I tried it on the other day actually. It's a little bit tight under the arms. It will be nice for the fans and also for myself to put it back on. I'm not sure if it's a good thing or a bad thing really to relive that memory. It'll be a great point in the show and it was a special time, so it will be good to put the coat on again."
What do you most enjoy about performing live?
"Just that connection with the audience really, you can't beat that. When you're up there on stage and you're mid-song and you can hear a pin drop and you're telling this story through song and connecting with an audience, that's the best feeling for me. It can be the tiniest venue somewhere or The Royal Albert Hall. It's the same feeling."
Your album – Lee Mead: 10 Years – is out on Friday February 23 to accompany the tour. Does it feature some of the songs you've mentioned?
"Yeah. It's pretty much songs from the shows I've done. Some of those songs I hadn't sung for eight or nine years, so it's been really nice to revisit those songs plus a couple from the TV show that I did as well. Also on the album, there's a song called Blackbird by The Beatles, Bring Him Home from Les Miserables, Dancing Through Life from Wicked, which I did in the West End in 2010. And All of Me by John Legend, which is a great number. Making the album was quite stressful because I recorded it in between filming Holby but it's a fun album and I sing with a 20-piece band on it, which was great."
These days, Lee is best known as Holby City's kind-hearted nurse Ben 'Lofty' Chiltern
How will you juggle the tour with your commitments on Holby?
"It is a bit of a balancing act, really. But I've got this pyramid rule thing and Besty, my daughter, who's seven now, is at the top of that pyramid. I turn down more work than I actually take because she comes first. So it's about making sure I see her sufficiently and then I work around that. The tour is the last weekend of each month and I'm doing 26 dates in all. So I can do that, be a dad and film Holby five days a week. On quieter Holby storylines, I'm sometimes in two days a week at Holby, which means I can do school pick-ups and be with Betsy at weekends."
In terms of storylines, what's happening with Lofty at the moment? Is he ever going to get it on with Dominic (David Ames)?
"I know, they've certainly been on-off, on-off, haven't they? But that's mainly because of Dom's past with Isaac. Lofty wants to support Dom but it's about Dom trusting someone again, so it's been nice to play all that really. It will be interesting to see how it unfolds."
Lofty with on-again, off-again squeeze, Dr Dominic Copeland (David Ames)
Lofty's nan Sheilagh – played by actress Wanda Ventham – has been at the hospital in recent weeks. In next Tuesday's episode, Lofty worries she'll need to be put into a home…
"That's right. Lofty's obviously very worried about his nan's health generally, being in hospital, and now he's stressing about making sure her future is going to be comfortable and safe and starts looking into care homes for her. Problem is, Sheilagh doesn't want to go into a care home…"
Doesn't Dom come up with a suggestion that could solve the problem?
"Yeah, at one point Dom suggests that Lofty and Sheilagh can move in with him. It's such a kind gesture but it freaks Lofty out a bit. Given their previous dalliances, Lofty's like: 'Dom, I'm really not ready to move in and for us to live together… with my Gran!'"
With Lofty worried about his nan, Dom makes a suggestion that he thinks could solve the problem
Wanda is the mother of actor Benedict Cumberbatch – does she tell you stories about him?
"She's does! It's quite sweet in that she talks about 'Ben' in the same way I talk about Betsy. And she talks about him naturally like a real mum would like about the time he took her to The Oscars. She told me how, at the time, she thought: 'I can't believe this, I never thought I'd see the day that my son's going to The Oscars'. We were filming the other day and she said: 'I've got a message from Ben to you: 'From one Ben to another, make sure you look after my mum!'"
Can we expect to see you on Holby for a while yet? Would you like to do another musical?
"I'm really happy at Holby, in fact, I've just signed on for another year. It's a nice life balance that I also get to do my concerts and panto at Christmas! I'd like to do a big theatre show again and I'm hoping Holby will give me a few months off to do a short run in a big show. Maybe next year or the year after but, of course, that depends if Holby still want me or if I want to stay on there. But at present I'm really happy there and I love playing Lofty – it's a great part."
Good news, Holby fans! Lee will be on the show for at least another year yet!
Your former Holby co-star Joe McFadden won last year's Strictly Come Dancing. Is Strictly something you'd like to do?
"I think it would be now. When I did Any Dream Will Do, I found it just the scariest thing being judged by the country on a phone vote every week and, after that, I thought that's the one and only time I'm going to do that, never again. But now that I'm more grown-up and have built a nice career, I think it would be fun thing to do one day – if I was considered, of course! Joe said it was really hard work, especially as he was filming Holby at the same time, but it is the biggest show on TV and it would great to learn how to dance like that."
What's the biggest thing you've learned about showbusiness in the past 10 years?
"Not to take it seriously. I mean, I take the work seriously but you can't take the industry seriously; it's a special industry but it can be quite flaky. What I do is a real privilege but I think some people in this industry can get caught up with the b******t of it all, which has never been me. So the biggest lesson I've learned is not to take things too seriously. I just want to enjoy these experiences, work hard and hopefully I'll still be doing it in another 10 years."
Lee Mead – 10 Years the album is available on iTunes from Friday February 23, and Lee's anniversary tour kicks off on Saturday February 24. For more information visit www.leemead.co.uk.
Catch Lee on Holby City, Tuesdays at 8pm on BBC1.
Joseph pic credit: Nils Jorgensen/REX/Shutterstock
Get the latest updates, reviews and unmissable series to watch and more!
Thank you for signing up to Whattowatch. You will receive a verification email shortly.
There was a problem. Please refresh the page and try again.