Holby's David Ames: Dom will 'unravel' under the weight of his trauma (VIDEO)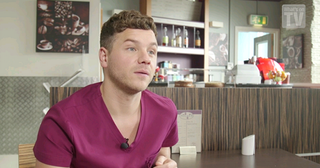 A thieving ex-boyfriend, the death of his best friend and a new love interest can only lead to chaos of emotions for Dominic Copeland, played by David Ames, in BBC1 medical drama Holby City
David Ames, best known for his role as consultant Dominic Copeland in BBC1 medical drama Holby City, receives a shock when a one-night stand walks on to the wards… as Holby hospital's new registrar.
Dom is left speechless and David revealed to What's on TV: "He is a little conflicted morally about how he should be, but it appeals to his ego and that is usually where Dom gets into trouble."
Dom was originally written into Holby as a guest in 2013, as a junior doctor who has a relationship with his mentor Malik, but then tries to ruin the medic's career after rejecting his advances.
He was then reintroduced permanently in 2014 and has since then featured in various storylines, including having a relationship with a man who robs him, while most recently, he dealt with the death of his best friend Arthur Digby to cancer.
David said: "It has been quite a struggle for Dom. It's taken its toll on him and he is struggling with where to put his emotions. In the coming few episodes, you see the unravelling of the amount Dom has been carrying around with him."
After the death of his best friend, Arthur, Dom returns to his bad boy antics to deal with his mourning.
David said: "Dom is dealing with his mourning in his own special way. Unfortunately, his own special way includes a few heavy nights and perhaps a few one night stands."
Isaac Mayfield, Holby City's new registrar, just happens to be one of the one-night stands: "Dom is a little shocked to see him. He comes into the hospital and surprises Dom because he does not realise exactly who he is and why he is coming into the hospital."
But will past relationships ruin this potential romance before it has begun?
David said: "Dom is very guarded about dealing with Isaac because obviously in the wake of whatever happened with Malik, there is reluctance to get involved with a senior member of staff again. But his snobby side likes the idea he is dating a handsome registrar."
Watch Holby City on Tuesday, June 28th at 8pm on BBC1
Article by Charlie Milward
Get the latest updates, reviews and unmissable series to watch and more!
Thank you for signing up to Whattowatch. You will receive a verification email shortly.
There was a problem. Please refresh the page and try again.