Ex Hollyoaks star Carley Stenson on her dream wedding and dream job: 'I'm buzzing about it!'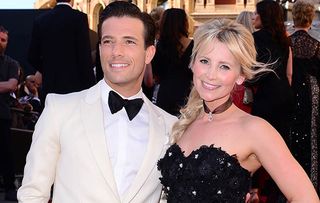 (Image credit: SilverHub/REX/Shutterstock)
Life is pretty sweet for Carley Stenson. She's about to marry one of TV's most handsome men and will tackle one of musical theatre's most iconic roles
Former Hollyoaks star Carley Stenson talks about her new role in acclaimed musical Les Miserables and her upcoming wedding!
Who are you playing in Les Miserables, Carley? "Fantine! Anne Hathaway played her in the movie version. It's an iconic role in an iconic musical. I'm buzzing about it. I'm so excited!"
Have you seen the show yourself? "Many times. I first saw it in London years ago. It was the first time I really understood what a musical was, I think. I've also seen the show on tour."
Are you daunted about being in such a massive show? "Oh yes! When people are asked to think of a musical, they inevitably mention Les Mis. So many amazing actresses have played Fantine, too. Not just Anne Hathaway, but also Uma Thurman, Patti Lupone, Ruthie Henshall and many others."
How do you intend to tackle the role? "It's been done so many different ways, but obviously I'm doing my own take. So long as I believe in what I'm feeling and singing, I hope I'll do Fantine justice and not let people down."
How long will you be in the show? "I'm contracted for a year, which is just fantastic. Having 12 months of secure employment in a job you love is a real blessing for an actor or actress. It also means I'll be in the same place for a long time. I'll be able to wear all my clothes!"
You've done many musicals since leaving Hollyoaks. Was that the plan? "I started out singing and dancing, and I always hoped to go into musicals. But I had an agent and I went up for acting jobs, too. That's when I got Hollyoaks."
How do you look back on your time there? "I loved my 10 years there, but I knew I had to have a shot at doing what I'd originally set out to do. After Hollyoaks, I went into the Legally Blonde musical and, fortunately, I've been doing musicals ever since!"
And you're marrying Danny Mac in August! "I'm really excited! I made sure I'd get the time off before I signed for Les Mis! I've had great fun planning the wedding. I did most of it over Christmas when, for the first time in seven Christmases, I wasn't working."
Did Danny help? "Danny couldn't do much because he was so busy with Strictly Come Dancing. But planning a wedding is a bit of a girly thing anyway, isn't it?"
Get the latest updates, reviews and unmissable series to watch and more!
Thank you for signing up to Whattowatch. You will receive a verification email shortly.
There was a problem. Please refresh the page and try again.