Ricky Whittle reveals his brutal preparation for lead role in US series American Gods (VIDEO)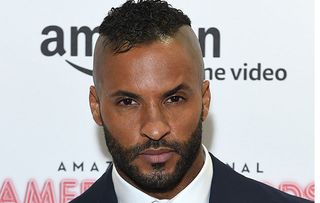 Ricky Whittle pushed his body to its limits while preparing for his lead role in Amazon TV series American Gods. The former Hollyoaks star gained an incredible amount of weight for the role despite already having an athletic figure
Former Hollyoaks star Ricky Whittle was stretched to his limits in the run-up to his starring role in American Gods and bulked up by putting on 2 1/2 stone.
American Gods is about to premiere on Amazon Prime Video and Ricky will play Shadow Moon in the eight-part series based on the award-winning book by Neil Gaiman. Shadow is an 'iconic character in the book world', according to Ricky, a man who is released early from prison after his wife and best friend are killed in a car accident.
Strictly 2009 runner-up Ricky told What's on TV: "At the very beginning of the book [Shadow] is described as big enough and don't-f-with-him enough to survive prison without worrying about anything but time."
Which is why Ricky felt the need to pile on the pounds and the muscles. Although he already has an athletic build, the actor underwent intense training to prepare.
He ate over 4000 calories a day and gained 35lb in the process. His diet consisted of five meals and five shakes a day and he did 2-4 hours training in the gym every day.
Ricky trained at a legendary Los Angeles gym called Unbreakable, where he worked out with '300lb giants, UFC fighters… the toughest, most horrific beasts you can think of in sports'.
He said: "You can always act big and you use your acting ability to provide that intensity and stoic-ness, but the size helps. We can always shoot various ways but just having that mass, like with the coin tricks, it is better to just be big than act big."
However, the rapid weight gain and training did take its toll on the actor, who said he felt physical pain from putting on so much mass so quickly.
Another part of his preparation for American Gods was learning some magic tricks. The main focus of his sessions was to master a trick during which he rolled a coin across his knuckles.
He added: "In prison it is Shadow's escape, because he has to focus on the coin it takes his head away from where he is… When all these fantastical things start happening to him, he has the coin tricks to distract him and keep him calm."
Ricky has already signed to star in season two of American Gods and says he won't be working on anything else in the meantime.
American Gods premieres on Amazon Prime Video on May 1.
Story by Jessica Ransom
Get the What to Watch Newsletter
The latest updates, reviews and unmissable series to watch and more!
As well as writing on sport and television for What to Watch, Richard McClure has contributed art and travel features for a wide variety of publications, including the Financial Times, The Guardian, and The Observer.