Humans star Gemma Chan: 'I think we are sleepwalking into our annihilation!'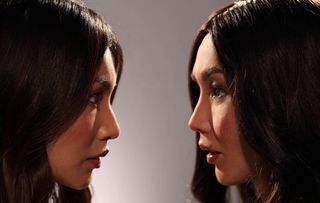 (Image credit: Glenn Dearing)
Humans is back to scare the life out of us and star Gemma Chan also features in a documentary that investigates just how rapidly robotics is developing
Actress Gemma Chan stars in the new series of sci-fi thriller Humans and also features in a Channel 4 documentary How to Build a Human, which investigates how scary robotics development really is...
Here, she talks about both shows.
What can we expect from the new rebooted series? "Everything has changed. Mia, Leo and Max are trying to move on with their lives and find their place in the world. However, Leo and Max are preoccupied with helping the newly awakened synths, who are starting to appear, while Mia is hiding in plain sight, working a cafe in Margate. Trouble is, she starts to develop feelings for cafe owner Ed [Nashville star Sam Pallidio], but I doubt it's going to be happy ever after.
"It gets quite dark this series, and you'll see things from Mia's point of view for the first time as she explores her own will and desires, and how she is able to act on them."
https://youtu.be/AY3CjoCjSlU
Did you have to back to Synth School to learn how to be a robot again? "Yes, I was pretty rusty. Humans choreographer Dan O'Neill asked us to perform the basics and to run like a synth, but I managed to pull every muscle in both legs! It was harder than I expected. Ivanno [Jeremiah] is the king of synth running, though, whereas I'm more like Phoebe from Friends!"
The first series was such a big hit, why do you think it resonated with people so much? "The show taps into so many things as it explores ideas of what it means to be human. When you see the world through the eyes of a synth, it allows us to question ourselves. It's not a huge leap in terms of technology, either."
You also feature in a Channel 4 documentary, How to Build a Human, this week in which scientists create a 'Gemmabot'… "Yes, I met the leading minds in A.I. and robotics, and once the team built their best robot version of me, we tried to pass it off as me. The idea was to see how far away we are from the world of the show."
Did it make you more fearful about the future of technology? "I think we are sleepwalking into our annihilation! That was the conclusion I came to after speaking to the experts anyway. I did worry midway through the documentary that maybe I was making my own replacement. When series three of Humans comes around, I might be out of a job!"
How to Build a Human screens on Channel 4 on Saturday, October 28. Humans returns on Sunday on Channel 4
Get the latest updates, reviews and unmissable series to watch and more!
Thank you for signing up to Whattowatch. You will receive a verification email shortly.
There was a problem. Please refresh the page and try again.