Ian La Frenais and Dick Clement: 'Porridge was the perfect storm of script, cast and director'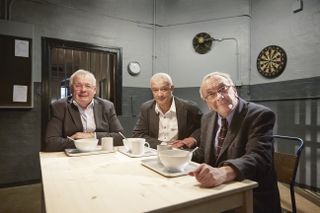 (Image credit: JFORD)
Porridge writers Ian La Frenais and Dick Clement tell TV Times magazine about their 'perfect storm of script, cast, director and topic' as the classic sitcom is celebrated with Porridge: The Inside Story on GOLD on Wednesday, May 21.
What do you remember about working on Porridge?
Ian: "Every memory I have of Porridge is pleasurable. It was a marvellous atmosphere. Of everything we've done, somehow Porridge was the perfect storm of script, cast, director and maybe the topic too. I can never remember a single moment of disappointment or difficulty attached to that show."
Dick: "You always need an element of luck. Luck and timing. You can never tell what is going to capture people's imaginations, but when something does you just say, 'Hallelujah!'"
Porridge was born from a series of BBC pilots written for Ronnie Barker called 7 of 1, and you were both asked to write two of these shows (another one of the seven pilots became Open All Hours) and wrote I'll Fly You For a Quid about a Welsh gambler and Prisoner and Escort about a certain lag called Norman Stanley Fletcher…
Dick: "Ronnie really loved I'll Fly You For a Quid and I think that would have been his first choice. But Prisoner and Escort was chosen and I remember Ronnie and I coming in one day, with both of us saying we'd come up with the perfect title for the show – and we'd both thought of Porridge."
Although Ronnie was already cast, how was the decision made to cast upcoming actor Richard Beckinsale as new inmate Lennie Godber?
Dick: "I give the director, Sid Lotterby, a huge amount of the credit for casting it so fantastically. Richard's casting was fantastic – although I have no idea how he got the role because he was so awful at read-throughs! He'd struggle terribly with the script – and then turn up and pitch it perfectly. The whole father/son relationship between Fletcher and Godber is so timeless. I don't want to pull the petals off the rose too much, I'm just glad it works."
How did it feel knowing you had what was almost an instant hit on your hands?
Dick: "The day after the first one went out – which was my birthday – I was shooting a commercial. Nobody on the crew knew that I had anything to do with it, but they were all talking about it, so I was earwigging like mad and thrilled that it made a connection right away."
What was the reaction like after the series went out?
Dick: "After series two, we were asked to go and remake Porridge in America, and that experience was everything that this one wasn't. The show was really not good and it was exhausting."
Ian: "And then we flew back to do another series of the English Porridge and it was heaven. I've never been so happy to walk into an Acton rehearsal studio. The smell of dreadful coffee, ogling Pan's People rehearsing in leotards – it was wonderful."
Why do you think the show is still so popular?
Dick: "It didn't go out of vogue because they were in prison, so no one looks like the Bay City Rollers. The costumes haven't changed much and the architecture hasn't changed much. There are references to things like Leeds United, who aren't quite the force they were, but it's aged pretty well."
Does the show still hold a real affection for the both of you?
Ian: "It's certainly the one that's the most popular with the public, therefore you've got to be endlessly gratified with that. We've had so many great experiences with so many different shows. But it has to stand up there for that reason – people speak so warmly of it."
Dick: "I want to celebrate it more than feel nostalgic about it. It's great to have written anything which people relate to and enjoy. I've had compliments from the most unlikely places. I was in Devon a long time ago and decided it was time I rode a horse. I went out to get one and the guy said he didn't have one my size. I was secretly relieved, but he suddenly said, 'I really would have liked to have given you a horse, because you've given me so much pleasure over the years'. It's very gratifying when you have a contact with somebody out of the blue like that. It's great to feel that you've actually made their lives a little bit happier."
Pictured: Original Porridge stars Christopher Biggins, Tony Osoba and Sam Kelly
Get the latest updates, reviews and unmissable series to watch and more!
Thank you for signing up to Whattowatch. You will receive a verification email shortly.
There was a problem. Please refresh the page and try again.