'If I'd known I'd be a frickin' servant I'd never have done it,' says Time Crashers' Kirstie Alley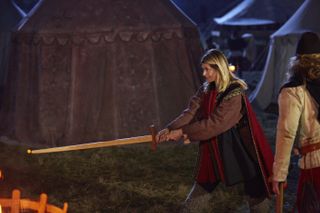 (Image credit: Mark Johnson)
Ten celebrities - including US comedy star Kirstie Alley - said goodbye to their families, comfortable lifestyles, Facebook, Twitter, smartphones and just about anything else associated with the 21st century to become time travellers in Channel 4's new time-travelling reality series Time Crashers.
And Kirstie, for one, appears to wish she had stayed in the 21st century.
Here, we reveal the presenters, the stars - and what Kirstie had to say about her run-ins with history… Considering her feelings, it was very brave of the show to let her get her hands on a sword…
Who's presenting Time Crashers?
Presenters Tony Robinson and Dr Cassie Newland (Channel 4)
History aficionado and Time Team star Sir Tony Robinson (who was also Baldrick from Blackadder). He's joined by historical archaeologist Dr Cassie Newland.
What should we know about Cassie?
Historical archeologist Dr Cassie Newland (Channel 4)
You may have seen her on various programmes including Channel 4's Time Team and BBC Two's Coast. Cassie has an MA in Historical Archaeology of the Modern World and a PhD in Archaeology, both from the University of Bristol where she now lectures in Archaeology and Anthropology.
Also, her dad taught her to strip cars at a very young age. How cool is that?
Who are the 10 celebrities?


Kirstie Alley (Channel 4)
Emmy and Golden Globe award-winning Hollywood star Kirstie Alley, as already mentioned.
Fern Britton (Channel 4)
Former This Morning presenter Fern Britton.
Louise Minchin (Channel 4)
BBC news presenter Louise Minchin.
Zoe Smith (Channel 4)
Commonwealth gold medal winning weightlifter Zoe Smith.
Meg Matthews (Channel 4)
Interior designer and socialite Meg Matthews, also known as the former Mrs Noel Gallagher.
Keith Allen (Channel 4)
Actor and comedian Keith Allen.
Greg Rutherford (Channel 4)
Olympic gold medal-winning long jumper Greg Rutherford.
Charlie Condou (Channel 4)
Ex-Coronation Street actor Charlie Condou.
Jermaine Jenas (Channel 4)
Footballer Jermaine Jenas.
Chris Ramsey (Channel 4)
Comedian Chris Ramsey.
What will they all be doing?
Dropping into eras of British history and spending a day living and working as the "lower" classes while completing a series of tasks.
What will some of the tasks involve?
Charlie and Fern prepare a feast (Channel 4)
In the Elizabethan era, for example, viewers will watch as the intrepid celebs skin the head of a dead boar while preparing a feast for their betters.
Any voices of dissent since filming ended?
Kirstie was not happy at having to do so many chores (Channel 4)
Kirstie Alley isn't exactly dancing with delight about her time on Time Crashers: "If they had said to me when they approached me that I would go into all these periods of history and I was always going to be a frickin' servant, I would have said, 'No way!'," she has said.
Although Kirstie has also tweeted: "If you are in Englandia be sure and check out Time Crashers this weekend...@jjenas8 and @GregJRutherford take there shirts off....catnip"
So, it wasn't all bad for her.
Time Crashers starts on Channel 4, Sunday, August 23, 8.00pm.
Get the latest updates, reviews and unmissable series to watch and more!
Thank you for signing up to Whattowatch. You will receive a verification email shortly.
There was a problem. Please refresh the page and try again.